News
Dra. Elena Barraquer Top 100 Women Leaders in Spain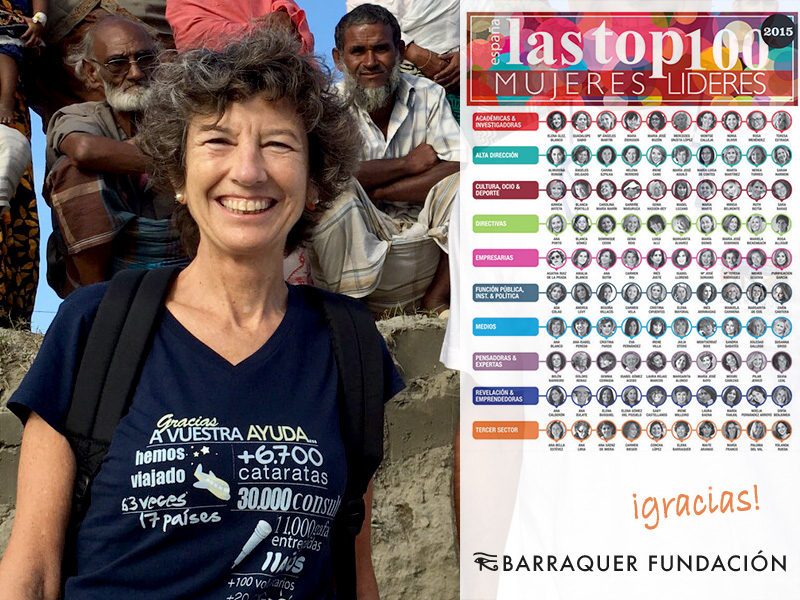 27/06/2016
On June 23 the 5th Gala of the Top 100 Women Leaders in Spain was held, organised by the MujeresyCia internet portal with more than 48,000 votes in their web.
Once again Dr Elena Barraquer has been chosen in the 'Third Sector' and has become Honoraria, as she has already been selected three times.
This ranking, now in its Fifth edition this year, wants to highlight the talent of women in all spheres of society represented in ten categories.
Academics & Researchers: Elena Gonzalez Blanco, Guadalupe Sabio, Dierssen Mara, Maria Angeles Martin, Maria Jose Mailbox, Mercedes Unzeta, Montse Calleja, Nuria Oliver, Rosa Menendez and Teresa Estrada.
Top Executives: Almudena Román Delgado Angeles, Carina Szpilka, Helena Herrero, Irene Cano, Jose Maria Aguilo, Maria Luisa de Cortes, Marta Martinez, Nerea Torres and Sarah Harmon.
Culture, Leisure & Sports: Ainhoa ​​Arteta, Blanca Portillo, Carolina Marin, Garbiñe Muguruza, Gema Hassen-Bey, Mabel Lozano, Marta Mars, Mireia Belmonte, Ruth Beitia and Sara Baras.
Management: Ana Porto, Blanca Gomez, Dominique Cerri, Gema Reig, Luisa Alli, Margarita Alvarez, Maria Dionis, Maria Jose Nephews, Mariela Bickenbach and Rosa Allegue.
Businesswomen: Agatha Ruiz de la Prada, Amalia Blanco, Ana Botín, Carmen Riu, Inés Juste, Isabel Llorens, María José Soriano, María Teresa Rodríguez, Nieves Segovia and Purificación García.
Civil Service, Political & Institutional Functions: Ada Colau, Andrea Levy, Begoña Villacis, Carmen Vela, Cristina Cifuentes, Elena Mayoral, Inés Arrimadas, Manuela Carmena, Margarita de Cos and Zaida Cantera.
Media: Ana Blanco, Ana Isabel Pereda, Cristina Pardo, Eva Fernandez, Irene Villa, Julia Otero, Montserrat Boix, Sandra Sabates, Soledad Gallego and Susanna Griso.
Thinkers & Experts: Belén Barreiro, Dolors Renau, Gemma Cernuda, Isabel Gomez-Acebo, Laura Rojas-Marcos, Margarita Alonso, José María Bayo, Mosiri Cabezas, Pilar Jericho and Silvia Leal.
Revelation & Entrepreneurs: Ana Calderon, Ana Eulate, Busquiel Elena, Elena Gomez de Pozuelo, Gaby Castellanos, Irene Milleiro, Laura Baena, Maria Fanjul, Noelia Fernandez and Sofia Benjumea.
Third Sector: Ana Bella Estévez, Ana Liria, Ana Sáenz de Miera, Carmen Bieger, Concha Lopez, Elena Barraquer, Maite Arango, Maria Franco, Paloma del Val and Yolanda Rueda.