News
Interview with Dr. María de la Paz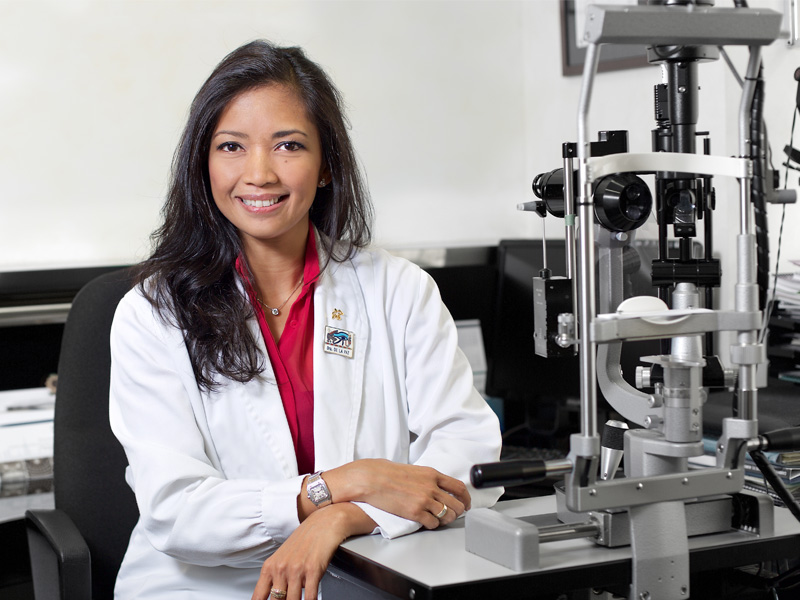 10/11/2015
- Could you explain a little about your background?
I am one hundred percent Filipino. My parents are both from the Philippines, and that's where I completed my residency in general medicine and ophthalmology.
- What would have been your next step?
As almost all Filipinos Doctors, do when they finish their residency, my dream was to transfer to the United States to continue my medical training with a fellowship at Harvard Medical School.
- So how did you come in contact with Barraquer?
In 1999, when I was finishing my second year of residency in ophthalmology in Manila, my boss asked me to accompany him to receive a very important doctor from Spain, who came as a guest speaker at the Asia Pacific Congress of Ophthalmology. I was the only person who could speak a little bit of Spanish, since I had learned it as a teenager to understand the lyrics of the songs my favorite band played, Menudo, starring Ricky Martin.
For the next five or six days of the congress, I was accompanying Professor Barraquer and Doña Mariana full time, acting as a driver and translator. There was some connection with the Professor, and at the end of their stay, he offered me to come to Barcelona and work there for some time.
- I Imagine you accepted...
Yes, I agreed. But not because it was my dream, but out of courtesy towards Professor Barraquer. I still wanted to go to Harvard.
- What changed your mind?
When I finished my residency, my mother reminded me of Professor Barraquer, and insisted that I take the opportunity and accept his invitation. I completed the necessary procedures and... here I am! And all thanks to Ricky Martin! (Laughs)
- That sounds like destiny! How many years have you been practicing in the Barraquer Centre?
I came to Spain in 2001, so it has already been fourteen years. I spent two years practicing, did fellowship in four years, and since 2008 I am a collaborator of the Centre.
- What is your greatest regret, if any, of working at the Barraquer Centre?
The only regret is that I always wanted to be a doctor so I can help my country, which now I cannot do. But I also believe that being here in Barcelona, and having traveled with the Barraquer Foundation, I was able to help many more people.
- And your greatest satisfaction?
I'm living a dream! As a specialist in cornea and ocular surface, I'm performing surgeries I would had never thought I would do, such as osteoodontokeratoprosthesis, a technique that less than ten surgeons worldwide perform. Professor Barraquer opened his doors to me, and I owe him both my professional and personal life.
- What do you mean when you say that you owe him your personal life?
If I had not come to work to the Barraquer Centre, I would not have met my husband Juan, who is also a surgeon ophthalmologist collaborator of the Center. Everything fits when you have such a close person who can also teach you many things from a large accumulation of professional experience.
- It's true, everything fits. In conclusion, are there any words of wisdom for those who want to become doctors?
In the Philippines we say, "you get as much as you put in" meaning that the more you give of yourself and put passion in what you do, you will receive as much in return or even more….It is something that applies in both years of study, as in the posterior professional practice. •