News
The Barraquer Ophthalmology Center at the WOC 2018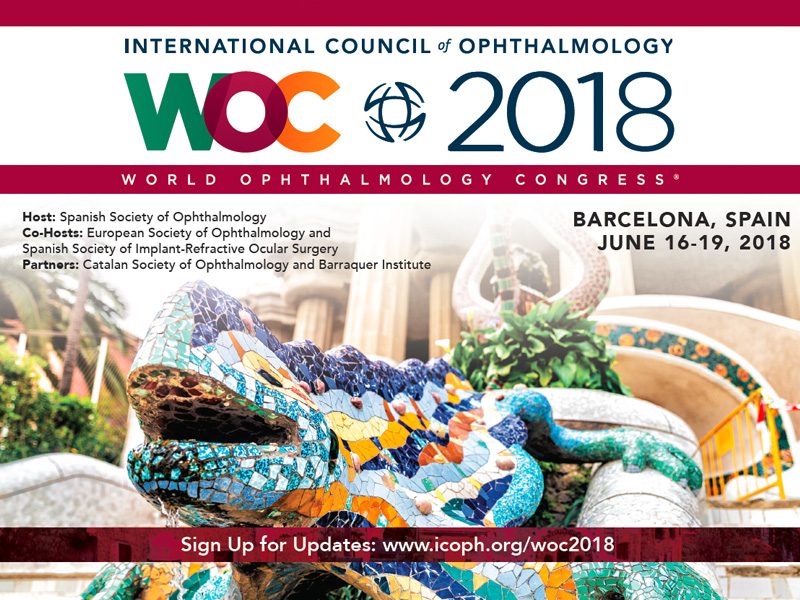 11/06/2018
From 16-19 June, Barcelona will host the 36th World Ophthalmology Congress (WOC2018) of the International Council of Ophthalmology chaired by Prof. Rafael I. Barraquer. The WOC is the most important meeting in the world for its specialism. More than 8,000 ophthalmologists and optometrists from over 140 countries will come together in our city.
The Barraquer Ophthalmology Centre will hold a live 3D surgery session on the afternoon of Monday 18 June, from 14h a las 17h. With support from Alcon and Zeiss, a live 3D surgery session will be conducted at two of the centre's operating theatres where cataract, refractive and vitreoretinal surgery, corneal transplants, minimally invasive glaucoma surgery and other procedures were performed on real patients. The surgeons from our Centre who will conduct operations are: Prof. Rafael I. Barraquer, Dr. E. Barraquer and Dr. J. Nadal. The guest surgeons are Dr. V. Sarnicola, Dr. Tassignon and Dr. A. Mermoud. These procedures will be broadcast live to the WOC conference hall with commentary from Dr. Juan P. Álvarez de Toledo and Dr. Santiago Abengoechea, who will encourage the attendees at the Fira Gran Via Conference Centre to participate and ask questions.
On Tuesday 19 June, to bring our participation in the WOC to a close, we are holding a practical training session involving a Wet Lab on manual small incision surgery. This Wet Lab has two parts: a welcome session with introductory presentations and a practical session on Wet Lab from expert ophthalmologists invited by ISMSICS (The International Society of Manual Small Incision Cataract Surgeons). It is a satellite course, part of the WOC 2018 programme, which is taking place at the Barraquer Ophthalmology Centre.
Over the three-day conference, the Barraquer Institute also will have on-site representation at stand number 5063 in Hall 7. We will be using this space to advertise our training programmes, courses and conferences and it also will serve as a meeting point for industry specialists and representatives.
Featuring a first-class programme, 300 scientific sessions addressing a multitude of sub-specialisms and topics related to ophthalmology will be hold and around 1200 research studies will be presented at the WOC.
Held every two years in a different part of the world, this year—and for the first time since the WOC was founded in 1857—, Barcelona is the city chosen as the place where many of the top surgeons from the Barraquer Ophthalmology Centre and other prestigious international centres will carry out avant-garde surgery using the latest techniques and technology.