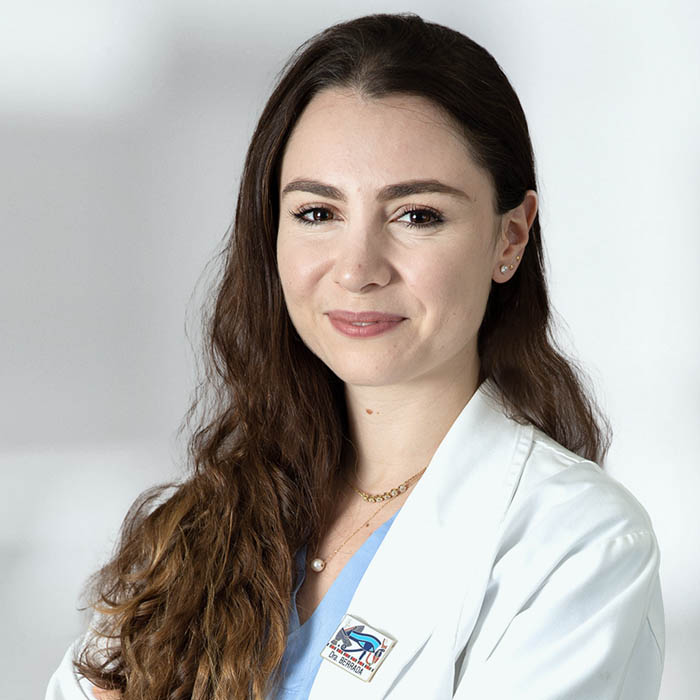 Medical registration no

57.127

Languages

Spanish, Catalan, Arabic, English, French, German.
She graduated in Medicine from the University of Barcelona (2018). She also completed a stay at the Université Paris VI (2017) and an Observership at the Standford Cancer Center, in Palo Alto, California. She completed her specialty in ophthalmology at the Barraquer Ophthalmology Centre, where she was chief resident in her last year (2023). She is currently doing the Fellowship in Glaucoma at the Barraquer Ophthalmology Centre, combining her care work in Casablanca (Morocco).
Professional Activity
Ophthalmologist in the Glaucoma area of the Barraquer Ophthalmology Centre.
Diploma of the European Board of Ophthalmology (2023).
Instituto Barraquer Award for the best Pubmed publication (2023).
Important publications
Ferragut, Alvaro, Rodríguez Ma Dolores, Berrada Halima, Ledo Natalia, Soldevila Anna, Ruiz Tolosa Francisco, Charoenrook Víctor. Epiteliopatía progresiva en ondas y dermatitis de contacto por colirios hipotensores en el tratamiento del glaucoma. A propósito de un caso. En: I Certamen de casos clínicos en Glaucoma, Premios 2020 p. 34-38
Víctor Lázaro-Rodríguez, Halima Berrada, Gorka Martínez Grau. Basal cell carcinoma infiltrating the lacrimal sac. Annals d'Oftalmologia 2021;29(3).
Víctor Lázaro-Rodríguez, Halima Berrada, María José Capella. Case report of isolated primary herpes-simplex virus neuroretinitis in an immunocompetent adult. BMC Ophthalmology 2022; 22:47.