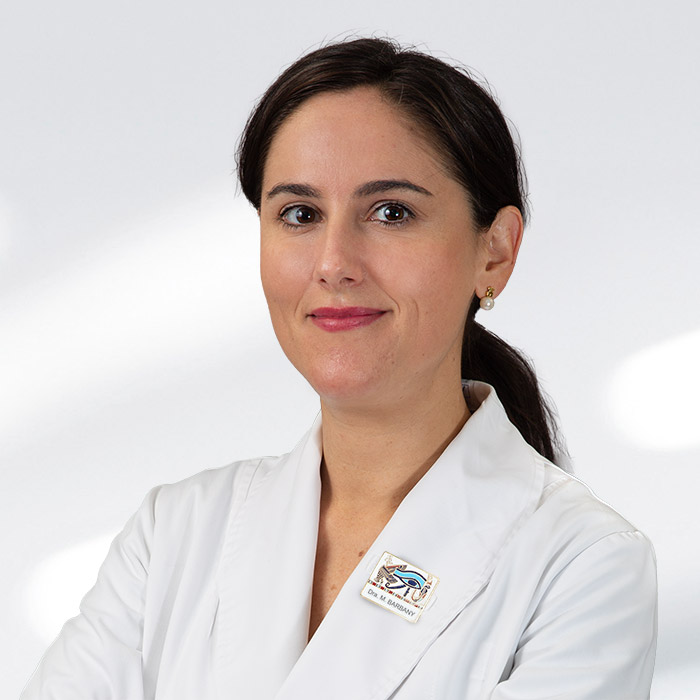 Medical registration no

47.157

Languages

Spanish, Catalan, English.
She graduated in Medicine and Surgery from the University of Barcelona, she specialized in ophthalmology at the Hospital Universitari Mútua de Terrassa and at the Hospital Sant Joan de Déu in Barcelona. In 2013 she obtained international validation with the International Council of Ophthalmology exams. Subsequently, she completed her training in diseases of the ocular surface, cornea and cataract with stays at the Centre Hospitalier Universitaire de Rouen in France (Prof. Muraine), at the Queens Medical Centre in England (Prof. Dua) and at the Sankara Nethralaya Hospital in India (Prof. Iyer).
She began her professional career at the Hospital Universitari Mútua de Terrassa, where she currently directs the Cornea and Anterior Segment Department. In 2016 she started working at the Ocular Microsurgery Institute (IMO) as part of the Cornea Department and the Ethics Committee. Since 2023 she has been part of the cornea, cataract and refractive surgery team at the Barraquer Ophthalmology Centre.
In the field of teaching, she has been a professor of the Master in Cornea, Cataract and Refractive Surgery at IMO (Autonomous University of Barcelona) and a professor of resident interns and medical students at the Hospital Universitari Mútua de Terrassa (Universitat de Barcelona).
She has participated as a speaker at numerous national and international meetings, as well as being the author of various publications. She also highlights her participation in several research projects on ocular surface diseases, both at a national and European level.
Professional activity
Ophthalmologist in the Cornea and ocular surface area of the Barraquer Ophthalmology Centre.
Member of the European Society of Cataract and Refractive Surgeons-ESCRS.
Member of the Europen Dry Eye Society (EUDES)
Member of the Spanish Society of Ocular and Corneal Surface (SESOC)
Member of the Spanish Society of Refractive Implant Eye Surgery (SECOIR)
Member of the Catalan Society of Ophthalmology-SCOFT.
Member of the Col·legi de Metges of Barcelona
Member of the Executive Committee of Aniridia-NET.EU
Member of the Board of Trustees and Medical Committee of the Ulls del Món Foundation.
Important publications
Güell JL, Morral M., Barbany M., Gris O. Intacs® Corneal Implants for keratoconus. In: Price FW,McKee Y. Management of Keratoconus: iBook. 2016.
Gris O., Barbany M., Güell JL., Elíes D. Capítulo 1.7 Superfície Ocular y queratoplastia. Queratoplastias: Nuevas técnicas para el siglo XXI. Sociedad Española de Oftalmología. 2016. ISBN: 978-84-89085-62-6
Güell JL., Segovia E., Celis J.,Gris O., Barbany M., Morral M. Capítulo 5.4.4 Queratoplastia laminar anterior profunda: técnica de viscodisección. Queratoplastias: Nuevas técnicas para el siglo XXI. Sociedad Española de Oftalmología. 2016. ISBN: 978-84-89085-62-6
Güell JL., Segovia E., Celis J., Gris O., Barbany M., Morral M. Capítulo 7.2.4 Queratoplastia descemeto-endotelial:técnica bimanual. Queratoplastias: Nuevas técnicas para el siglo XXI. Sociedad Española de Oftalmología. 2016. ISBN: 978-84-89085-62-6
Güell JL., Segovia E., Celis J., Gris O., Barbany M., Morral M. Capítulo 7.3.3 Queratoplastia descemeto-endotelial y cirugía vítreo-retiniana. Queratoplastias: Nuevas técnicas para el siglo XXI. Sociedad Española de Oftalmología. 2016. ISBN: 978-84-89085-62-6