News
Get to know the Barraquer Aesthetics Unit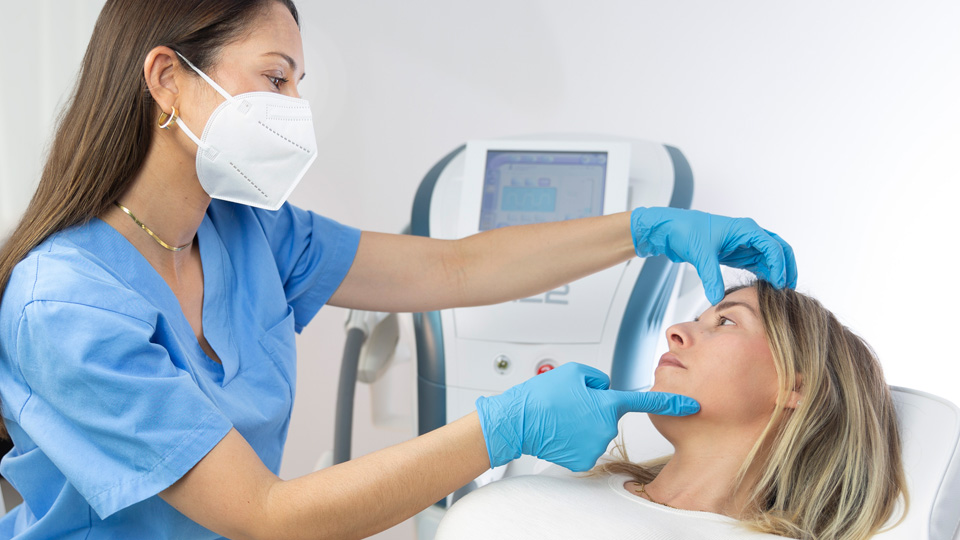 25/10/2022
At the Barraquer Ophthalmology Centre we have added to our extensive catalog of treatments a unit specialized in oculofacial aesthetic medicine. The unit now makes it possible to offer medical solutions for the most common aesthetic concerns of both men and women, either restoratively in mature skin or preventively in young patients. The unit treats any condition related to facial rejuvenation.
Main conditions
• Wrinkles, expression lines and grooves of all kinds: frontal, between the eyebrows, crow's feet, marionette lines, nasolabial fold, barcode, neck lines...
• Pigmented, vascular and indented dark circles.
• Bags under the eyes.
• Drooping eyelids.
• Pigmented lesions such as spots, keratosis, melasmas, nevus, solar lentigo or vitiligo.
• Vascular lesions such as spider veins, ruby ​​points, angiomas or redness.
• Dilated pores.
• Acne marks and scars.
• Rosacea.
• Generalized facial aging due to age itself: lack of volume, flaccidity, skin thinning, loss of collagen, dull complexion...
How to rejuvenate the skin?
Although many factors influence the slower or faster appearance of the signs of aging, such as genetics, a healthy lifestyle, consistency in the right cosmetic routine or repeat facial expressions, sooner or later they will surely appear in all people. The passage of time, the loss of collagen and elasticity of the skin, as well as the effect of gravity and the natural process of tissue oxidation cause the gradual signs of aging. Expression lines, wrinkles, dark circles, sagging or a sad look are just some of the most common consequences. which many people do not feel identified. Many of these conditions develop physiologically and do not usually compromise skin functionality, but they are the main reason for aesthetic consultation, as patients want look as good as they feel.
The Aesthetics Unit allows us to offer the patient a comprehensive approach thanks to the involvement of our team of oculoplastic ophthalmologists specialized in ophthalmo beauty and oculofacial aesthetics, as well as the latest technology and the best products on the market. The extensive range of treatments allows you to restore youth and enhance the natural beauty of any face with or without surgery:
• Hyaluronic acid.
• Botulinum toxin (botox).
• Facial mesotherapy.
• Microneedling.
• Revitalizing peels.
• Photorejuvenation with last generation intense pulsed light (IPL) treatment.
• Platelet-rich plasma (PRP).
• Blepharoplasty.
Patients can now request an appointment to receive a personalized diagnosis.