News
Dr. Elena Barraquer receives the Excellence Award from the Queen Sofia Spanish Institute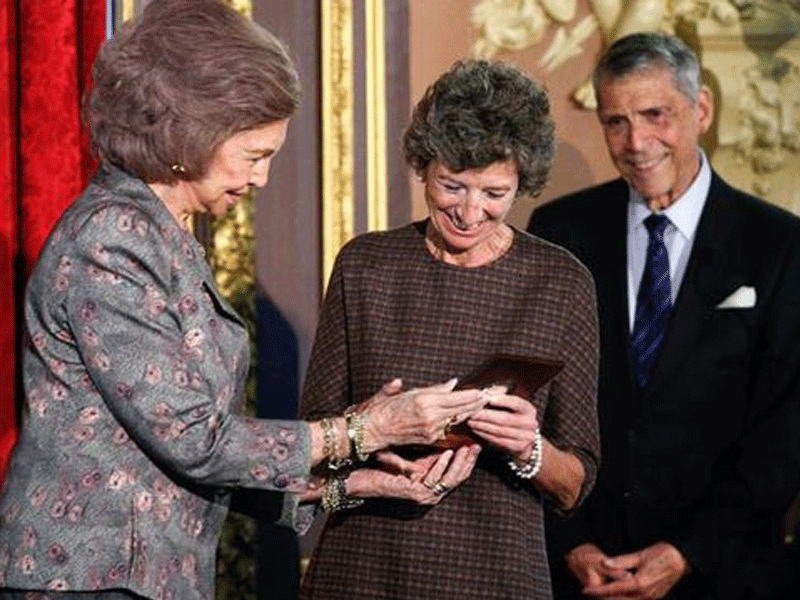 13/12/2018
The Queen Sofia Spanish Institute awarded on Wednesday December 12 in New York to tenor Placido Domingo and ophthalmologist Elena Barraquer for their excellence and for being "an example of how wisdom can be used for the benefit of humanity," as Doña Sofia stressed in reference to her Greek name.
Queen Sofia presented her awards this Wednesday at the Metropolitan Club, an elegant space located on Fifth Avenue in front of Central Park, in an event that included a reception and a subsequent meal, and during which videos were broadcasted about the careers of the outstanding Spaniards.
Dr. Fernando Aleu, president of QSSI, acted as master of ceremonies for the gala. He praised the tenor's vocal cords as a "medical greatness" without equal "on the planet" and thanked him for attending the event, as the Metropolitan Opera was performing that same afternoon.
"There is no other opera star that five hours before getting into the paper comes to a meal", he joked, to which Domingo replied that, fortunately, after 50 years of singing in the United States, they have not had to change the strings "like a guitar".
About Elena Barraquer, Doña Sofía said that her medical achievements are "equally impressive": "She has embarked on an incredible mission to restore vision to those blinded by cataracts and without resources, and has become an exemplary model for many doctors.
Elena Barraquer , who performs nonprofit cataract operations "out of passion" for her work and for people, stated that, of the 40 million blind people in the world, half are blind because of this "easy, or relatively easy" disease to intervene surgically.
"You have to think about children, because in Africa, especially, if a grandfather is blind it is usually a girl who comes out of school to take care of him. If you give that grandfather back his vision, you give the girl back the possibility of an education and with it the possibility of improving her quality of life," he explained.
The QSSI was created in 1954 under the name of Instituto Español and was renamed in 2003 in honour of Queen Sofia. In view of its 65th anniversary this year, the monarch considered it an "example of friendship". and declared herself "honored" for giving the awards of excellence to outstanding people.
"Sophia means wisdom in Greek. It's not my fault, my parents put it on me," she said, snorting laughter from the public, "but these awards are examples of how wisdom can be used for the benefit of humanity.