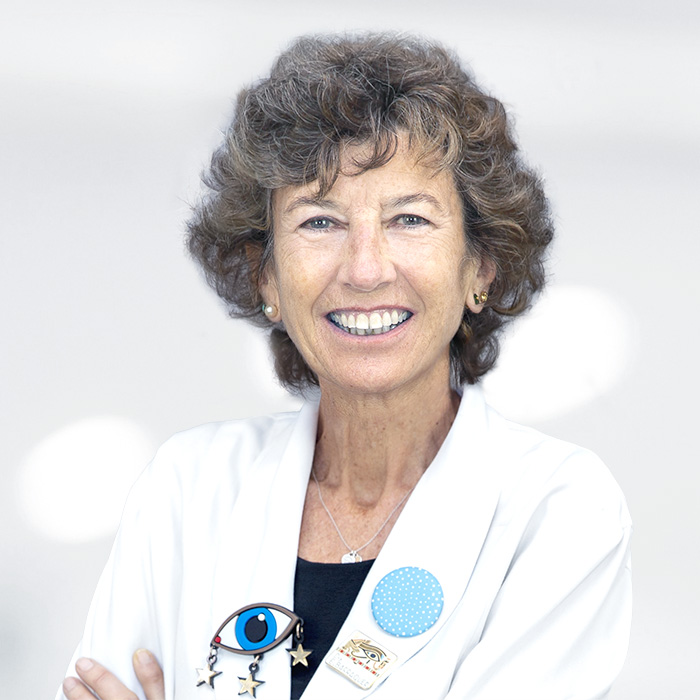 Medical registration no

12.269

Languages

Spanish, Catalan, English, French, Italian
Dr. Elena Barraquer is a graduate of Medicine and Surgery from the Autonomous University of Barcelona (1977). She continued her training in the United States with a research scholarship from the National Eye Institute (Bethesda, Maryland). She then paved her professional career as a Fellow of the Ocular Pathology Laboratory of the Wimer Eye Institute in Baltimore, a house officer in internal medicine at the Sinai Hospital of Baltimore, and from 1984 to 1987, she trained as a house officer in ophthalmology at the Massachusetts Eye & Ear Infirmary in Boston. Following that, she undertook a two-year cornea fellowship programme in the Bascom Palmer Eye Institute in Miami and moved to Turin (Italy) at the end of 1989. In 2002, she joined the Barraquer Ophthalmology Centre medical team where she currently works as a cataract and refractive surgery specialist.
Professional activity
Ophthalmologist in the areas of Cataracts and Refractive Surgery at the Barraquer Ophthalmology Centre
President of the Elena Barraquer Foundation
La Clau de Barcelona prize. Club d´Amics Clau de Barcelona (2009)
Silver Merit Medal of Barcelona City Council Urban Guard (2011)
Honorary Degree ESERP (Barcelona School of Business and Social Sciences) 2012.
Police Merit Cross (2012)
Barcelona Medal of Honour 2012 Excmo. Barcelona City Council
Traveler Prize - Traveler of the Year 2013. Conde Nast Publications
Alegría de Vivir Prize (2013)
Paul Harris Rotary Club prize (2013)
Order of Isabella the Catholic (2014)
Puentes del Mundo International Prizes, Social Ambassador (2014)
Gastronòmica del Cargol Association. Fellow Member (2014)
Top 100 Female Leaders in Spain in the Third Sector 2013, 2014, 2015 and 2016 (honorary)
Vogue prize - Joya Personaje (2015)
FIDEM prize Donna Emprendedora (2015)
En Positivo prize, leader of social change (2015)
Dominican Republic Public Ministry of Health prize (2015)
The European Citizen's Prize (2015)
Dastgheib Pioneer Award in Ocular Innovation. Duke University (2016)
Red Cross Gold Medal (2017)
CODESPA prize for a socially-responsible SME.
Sophia Award of Excellence (2018).
Elena Barraquer Foundation ZEN Solidaria (2018)
Important publications
Pedreira JD, Barraquer E, Viladoms J, Esteban R, Richart C, Gallart MT and Guardia J: "Gammapatias monoclonales no asociadas con enfermedades mieloproliferativas. Rev. Clin. ESp. 1979, 151:17-21"
Barraquer Compte, Elena. "Estudios del epitelio pigmentario de la retina en cultivo / Elena Barraquer, Gerald J.Chader. Archives of the American Ophthalmology and Optometry Society. -- Bogota -- Vol. 15, no. 1 (1981), p. 11-20.
Frangieh GT, Green Wr, Barraquer-Somers E and Finkelstein D: Histopathologic study of nine branch retinal vein occlusions. Arch. Ophthalmol. 1982, 100: 1132-1140.
SIMILARITIES between posterior polymorphous and congenital hereditary endothelial dystrophies. A study of 13 buttons of 11 cases / Chi Chao Chan, W.Richard Green, Joaquin Barraquer, Elena Barraquer-Somers, Zenaida C. de la Cruz En: Cornea. -- Vol. 1, no. 2 (1982), p. 155-172.
Barraquer –Somers E, Chan CC and Green WR: Corneal epithelial iron deposition. Ophthalmology. 1983, 90: 729-734.