News
Astou Bodian, a Barraquer Foundation patient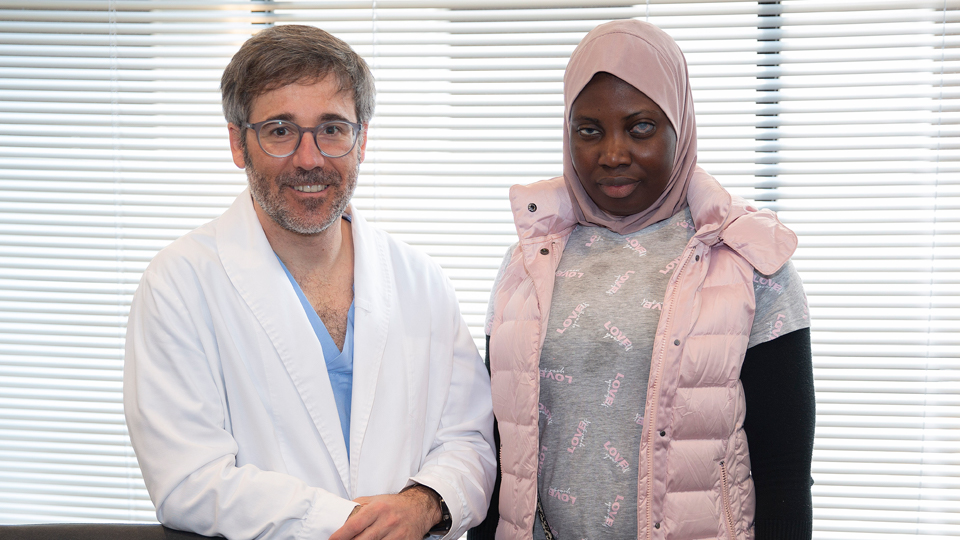 19/08/2022
Astou Bodian, a Senegalese patient of the Barraquer Foundation, has recently had the sight restored to one of her eyes. She came to the Barraquer Ophthalmology Centre for the first time in 2021. Her story began back in 2012 when her vision became blurry and it gradually got worse, leading to blindness. She then travelled to Tunisia where unfortunately they could not find an answer to her vision problems. "It didn't go well, I had a really bad time, I was in so much pain," says Astou as she recounts her experience. Upon her return to Senegal, the chances of getting her eyesight back dwindled even more.
But in 2015 everything changed. Her husband found out that a team from the Barraquer Foundation on a social mission doing cataract surgery, was in Senegal. Dr. Elena Barraquer visited people with eyesight problems and Astou went to meet her. She remembers the visit very well. After many years, hope had finally been restored, but she would have to travel to Barcelona for an operation. Preparing for the trip was complicated and just when it looked like she could travel, the pandemic erupted and her visa was denied. Mid-2021, once the travel restrictions had been eased, she was able to travel to Barcelona. She tells us about that period saying, "there were times when I felt so sad and I thought that I'd never find a solution to my eye problems and pain, but we never lost hope and finally we got there."
In Barcelona, she tells us, she was very excited and despite not speaking Spanish, she felt the Barraquer staff looked after her really well at all times. With regard to Dr. José Lamarca, who saw to her throughout the whole process, she says that he kept her abreast of everything. "I trusted his decisions implicitly, thanks to him I got the sight back in one eye and I no longer have pain in the other, I don't need anything else," she says.
While she was in Spain, she stayed with some family members who provided her with fundamental support during the full recovery process. She explains that she felt a huge culture shock when she arrived. She had never lived outside of Senegal, but despite that the large Senegalese community living here, her family, friends, the team of doctors, nurses, secretaries and receptionists at the Barraquer Ophthalmology Centre really rallied round her. Their presence meant she never felt alone."This trip has saved my life. Now I can see; before this I could not and I had absolutely no plans for my life because the lack of vision and my pains made it impossible. Now I feel so happy and much freer. I don't have any plans right now other than staying here and finishing my treatment, but once it is complete, my husband and I will be able to consider doing many things that have been impossible until now. I wish I had known about the Foundation before. I'm delighted and very thankful."