News
Barraquer acquires cutting-edge pulsed light technology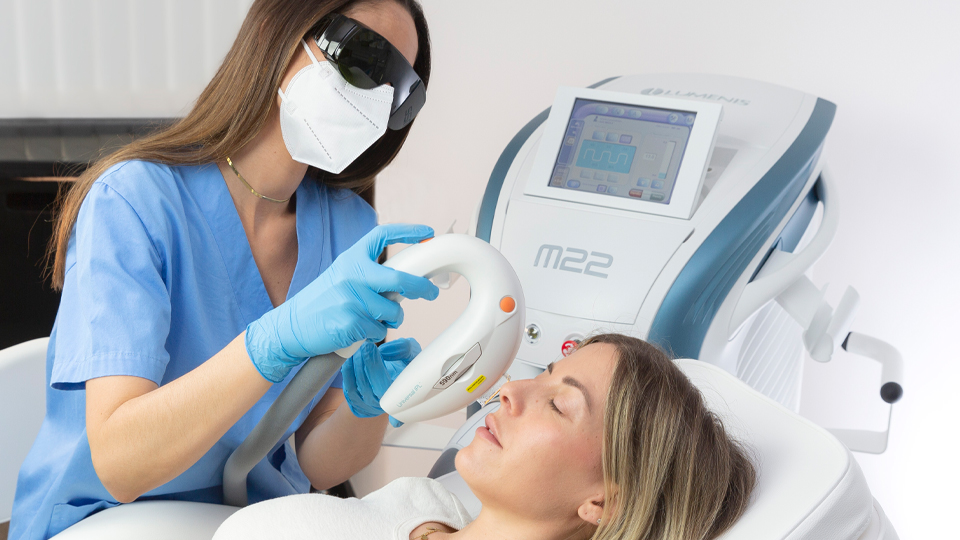 16/06/2022
This new technology provides major benefits for the eyes and oculofacial aesthetics.
The Barraquer Ophthalmology Centre has a long history in intense regulated pulse light therapy (IPL) for the treatment of many eye conditions and continues to constantly upgrade its aparatology. The Centre has just added to its equipment a sixth generation IPL device, the most advanced on the market at present, which has the highest number of scientific publications to back it up.
This new technology boasts a 97% efficiency rate, providing top significant results from the first or second session to tackle eye conditions:
Meibomian gland dysfunction
As a further bonus, in addition to its high level of effectiveness, the same IPL equipment can be used to deal with various aesthetic concerns on the face, ones which we address at the Barraquer Centre: acne, angioma, spider veins (telangiectasia), fine lines, hyperpigmentation, solar lentigo, café au lait spots, melasma, nevus, Campbell de Morgan spots, dilated pores, keratosis, redness, rosacea and facial hair. As it is a revolutionary facial photorejuvenation treatment, it combats the signs of sun damage on the contour of the eyes and the rest of the face. The results are:
Uniform tone, no redness or spots
Improved texture
Reduced wrinkles, achieving a botox effect.
Closed pores
More collagen, the production of which is stimulated.
More radiance, correcting dull skin that has a yellowish or sallow colour.
IPL hair removal effect.
Brighter complexion: eyelids appear lifted and the conjunctiva looks whiter.
It is a non-invasive treatment carried out in outpatients. We conduct it using the Lumenis IPL M22.