News
Donations to the eye bank: giving more than just sight to one patient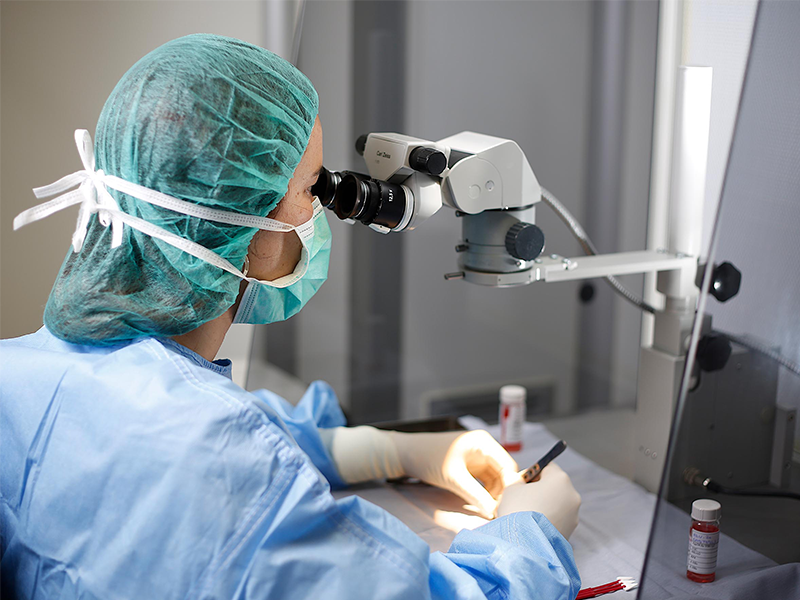 15/04/2019
When somebody donates their eyes, they don't just help one or two people, they can help improve clinical eye care for everyone.
After an organ donor passes away, consent is obtained from either a donor registry or next of kin. Afterwards a resident ophthalmologist is dispatched to recover the eye globes, along with a sample of the donor's blood to test for infectious diseases.
Once the globes arrive at our eye bank and the blood tests come back negative, the corneas are visually examined underneath a slit-lamp for surface alterations, and using a specular microscope, the number of endothelial cells are counted. If all criteria for transplantation are met, then the cornea and part of the sclera are removed from the rest of the globe and stored in medium until needed for transplantation. Depending on the storage medium, corneas can be viably preserved for up to 1 month.
Even if a cornea is not suitable for transplant, the entire globe can still help in other ways. Donated eye globes are invaluable for surgical training of future ophthalmologists, since they are the most accurate method to reproduce a real situation.
Furthermore, donations can aid in various research lines to help improve eye care. Currently together with other institutes, we are studying the crystalline lens to prevent secondary cataracts after cataract surgery, we culture lens epithelial cells from donated globes to study the possibilities of lens regeneration and we even perform mechanical studies of the crystalline lens to better understand how we focus our vision. Also, in a collaboration with the Center for Genomic Regulation of Barcelona, we use the retina to study cell fusion of human stem progenitor cells to regenerate the retina after damage. All of this will help improve eye care and vision in the future.
Justin C. d'Antin
Researcher at the Barraquer Ophthalmology Center