News
Learn about our aesthetic treatment with IPL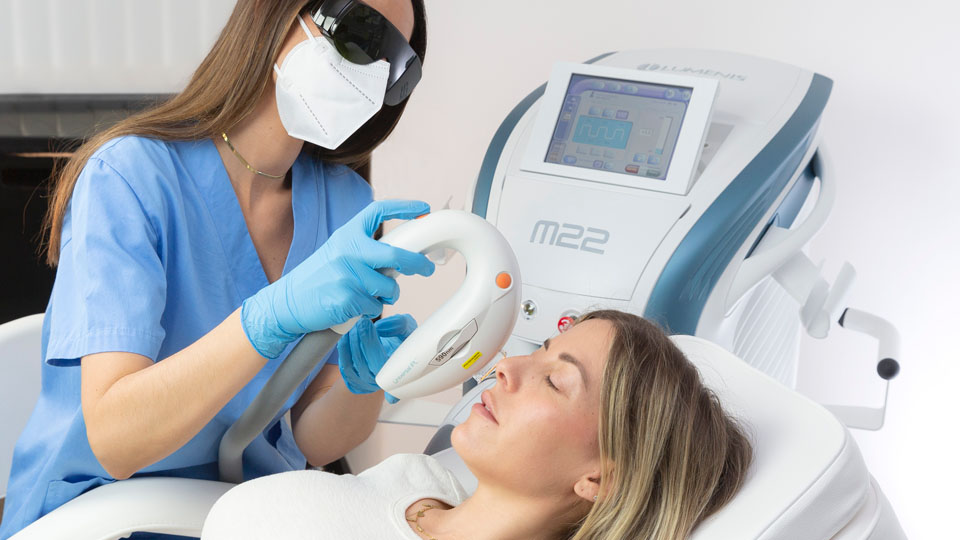 05/05/2023
At the Barraquer Ophthalmology Centre we have the most advanced equipment: the Lumenis M22 pulsed light, the sixth-generation intense pulsed light on the market. This technology has an efficiency rate of 97%, which makes it the intense pulsed light with the most published scientific evidence and with much more optimal results than with previous devices. The results of this cutting-edge technology are enhanced when used by oculoplastic ophthalmologists specialized in ophthalmo beauty and oculofacial aesthetics. The added value of this medical team with extensive experience allows us to adapt the device parameters in a personalized way to each patient and enhance the results of the treatment.
On an aesthetic level, it reverses the signs of photo damage in the eye contour skin and in the rest of the face, improving patients' skin quality and appearance: acne, fine wrinkles, blemishes, enlarged pores, rosacea, facial hair, etc.
In addition, IPL has a wide range of medical applications, allowing combined treatments and treating some eye conditions, many of which are closely related to facial aesthetics. Our team of oculoplastic ophthalmologists give a comprehensive diagnosis to provide highly personalized treatments with added guarantees.
Before the treatment
The treatment does not require preparation on the part of the patient, although the choice of the place where it is performed is important, since the best way to obtain the best performance from the same device is to choose a medical centre with experience in this equipment, which will adapt the parameters of it to achieve maximum results. It is worth relying on a team of oculoplastic ophthalmologists specialized in oculofacial aesthetics because of the relationship between eye conditions and facial aesthetics.
Treatment
IPL treatment lasts a maximum of 30 minutes, does not require anaesthesia and is performed with an eye protection system. Although it is not a painful treatment, the light can be uncomfortable for some patients, so the doctor can adjust the parameters throughout the procedure to make it as comfortable as possible. IPL is compatible with other treatments such as the infiltration of filler products (hyaluronic acid), botulinum toxin, skin peels, microneedling, platelet-rich plasma (PRP) or facial mesotherapy, among others.
After treatment
The treatment provides excellent results that are perceived progressively. It is possible to carry out consecutive sessions, which will be scheduled according to the needs of each patient. After the treatment it is essential to protect the skin from the sun with strict SPF 50+ photoprotection, since the skin will be more sensitive and reddened for up to 24 hours.
Dr. Sandra Planella, ophthalmologist at the Barraquer Ophthalmology Centre