News
We talk to Fernando Aleu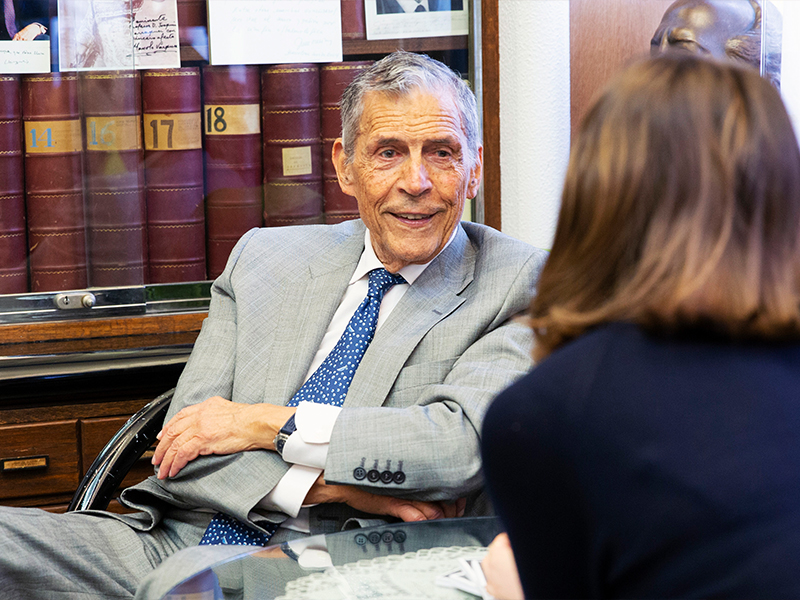 22/11/2019
Fernando Aleu (Barcelona, 1929) started his professional career as a neurologist in the United States, but he didn't take long in turning to the business of perfumes. A worldly man and fan of great changes, at almost ninety years of age he makes his début as a writer with a novel called El intercambio (The Exchange), a story based on a historical moment that he himself witnessed: an exchange of prisoners between the allied forces and the Nazi army in the port of Barcelona city in 1943. This exciting adventure also contains a few pages about the important role of the Barraquer Centre.
-Why did you leave medicine for perfume?
I was an associate lecturer in Neurology at the University of New York, but I've always had one problem: I like experiencing new things. It all started when I wrote to a perfume house in Spain because I couldn't find the fragrance I used, Agua de Lavanda Puig, in the United States, and that's how I got to know businessman Mariano Puig. He wanted to expand his business into North America and we got on so well that, I decided to make the most of a university sabbatical to help him, since we could have one every seven years. When I went back to the faculty, I met with the dean to leave my teaching job and start working with perfumes. I fondly remember his words: "I have a really good psychiatrist friend and he takes on cases like yours", he explained laughing. But I liked the change.
-You like changes so much that you're now making your début as a writer. What led you to write a novel?
Well, I crashed into a tree when I was skiing and had to take on a more relaxed lifestyle. One day my granddaughter came to visit me, we were chatting and she asked me what life experience had left the biggest impression on me. It was undoubtedly the exchange of 4000 prisoners which I saw at the port of Barcelona in 1943. This had a profound impact on me because we were living in a very bleak city and over those days it filled up with different people, cars with exotic flags and pretty women in an unexpectedly glamorous atmosphere. Once I'd finished telling her the story, my granddaughter said to me: "That sounds like a novel, why don't you write about it?". And what started out as therapy, became my first book after three years and a half of writing.
-What has the process of creating El Intercambio been like?
Really entertaining! I started to look and I found that the port of Barcelona was the only one in Europe that had regular boat sailings to Buenos Aires during the Second World War and I started to imagine that someone had escaped and that many other things occurred. What happens is that, when you set up a plot, it suddenly acquires its own reality and, unknowingly, the characters you've invented come to life and gain their own identity. It's an almost biological process. But if you don't like one of the characters, you kill him off or the whole thing is finished!- confesses Aleu, giggling.
"In addition to being a source of pride for Barcelona's residents because of its architecture, Barraquer became an international attraction due to the success and impact of its medical work"
-What type of universe have you created using this memory?
The outcome is a completely implausible plot with strangers who are brought together through the exchange of prisoners in Barcelona. There's a German spy and a doctor from New York who help Max, a Jewish trapeze artist who's fled from the Nazis, to hide in the city. As Max has eye problems, they decide to visit the Barraquer Clinic to have his eyesight checked, which is already a big deal, and try to keep him there until his status is regularised. That's how this individual ends up living in the Clinic, although tons of other things—which I won't reveal—do happen in the book.
-What was the Barraquer Centre of Ophthalmology like in the forties?
I remember when it opened in 1941, the building was unmatched in the city and it felt like a momentous occasion. At that time, when crossing Avenida Diagonal, there were hardly any buildings and it was rare to see a foreigner. Conversely though, people from Paris, Amsterdam and Prague all came to have their eyes seen to at the Clinic. Dr. Ignacio Barraquer, who was a much loved and respected man, had famous patients such as the French empress Eugenia de Montijo. "In addition to being a source of pride for Barcelona's residents because of its architecture, Barraquer became an international attraction due to the success and impact of its medical work"
-Did you have the chance to meet Prof. Ignacio Barraquer?
Unfortunately, I never got to meet him. The picture I have of Ignacio Barraquer is created based on what I have been told. The person that I did meet was his son, Dr. Joaquín Barraquer. Although we both studied at the Faculty of Medicine of Barcelona, I didn't actually meet him until I went to study my specialism at the University of Iowa in the United States. I heard a professor talking about a Spanish ophthalmologist who was using a revolutionary technique with cow's yeast to treat cataracts. That doctor, who was Joaquín Barraquer, awoke a great interest in me because I thought that him coming from the same faculty would also give me great prestige. Barraquer has always been a great institution.
-And his daughter, Dr. Elena Barraquer, you've also met her...
Yes, we met almost 20 years ago and we've remained great friends.
-How did she react when she read your portrayal of her grandfather in the novel?
I showed her the work because I wanted to know what she thought and she told me: "You're telling the truth, because if my grandfather could have offered refuge to someone like Max, he would have done it without a second thought".