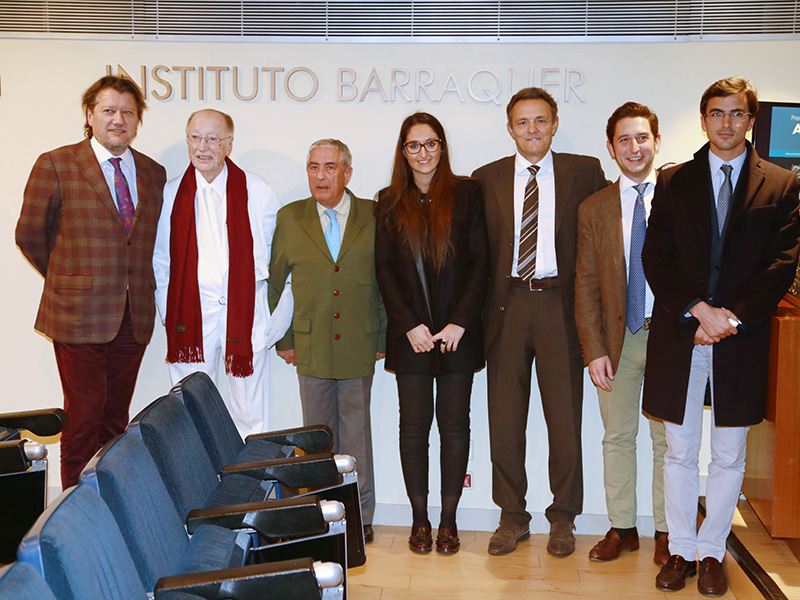 25/11/2015
Yesterday the Barraquer Institute and Alcon Laboratories presented the Alcon awards corresponding to the 2015 edition. The winners were as follows
Collaborators:
1st Prize Best article published in an indexed scientific journal Dr. Jeroni Nadal "VITRECTOMY WITH INTRASURGICAL CONTROL OF OCULAR HYPOTONY AS A TREATMENT FOR CENTRAL RETINA ARTERY OCCLUSION"
2nd Prize Best oral communication in an ophthalmological conference or meeting Dr. José Temprano "KERATOPROTHESIS WITH TIBIAL AUTOGRAFT"
3rd Prize Best scientific paper published in other Ophthalmology journals Dra. Marta López "ECTROPIÓN CONGÉNITO (HIPOBLEFARON) Y SÍNDROME DE DOWN" Annals d'Oftalmologia. Vol. 23 - Num. 2- April-June 2015
Residents:
1st Prize Best scientific article published in a an Ophthalmology journal or book chapters or other publications of the specialty Dr. Sandra Planella "LAMELLAR AND PENETRATING KERATOPLASTY IN CONGENITAL ANIRIDIA"
2nd Prize Best oral communication in a meeting of a national or international Ophthalmological Society Dr. Andrés Fernández-Vega "CARCINOMA ESCAMOSO EN EL CONTEXTO DE UNA CONJUNTIVITIS LEÑOSA"
3rd Prize Best communication at other conferences or courses of the specialty Dr. Laureano Álvarez-Rementería "GLAUCOMFLECKEN TRAS IMPLANTE DE ICL"
ALCON Special Award
Best publication in MedLine or an indexed journal Dr. Ferran Vilaplana "QUERATITIS FÚNGICA POR COLLETOTRICHUM GLOEOSPORIOIDES RESISTENTE A TRATAMIENTO"
Congratulations to all.