News
We awarded the Impulsa Barraquer Scholarship to Gerard Codina, a researcher at CREAF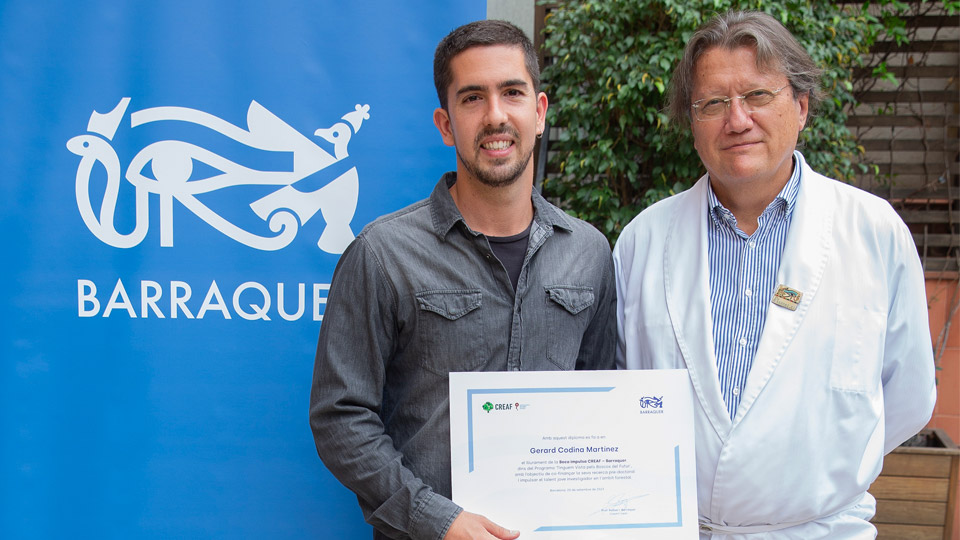 04/10/2023
On September 20th, we hosted an award ceremony at our facilities to present the 'Impulsa Barraquer Scholarship' to Gerard Codina, a researcher at the Centre for Ecological Research and Forest Applications (CREAF). This initiative is part of our 'Tinguem vista' project, where we collaborate annually with leading organizations to support various causes related to biodiversity preservation, environmental care, and sustainability.
The evaluation committee, comprising members of CREAF's Fundraising Commission and a team from Barraquer, granted Gerard Codina and his research group this initial research grant in the field of forest research. This grant is part of the first call for Impulsa scholarships from the 'Bosques del Futuro' Fund, which was recently established at CREAF. The grant will provide partial funding for his predoctoral thesis, furthering his research on the resilience of Mediterranean forests. The event was attended by Professor Rafael I. Barraquer and CREAF's director, Joan Pino, along with other staff members from both centres who wanted to celebrate this inaugural research grant from CREAF with our support.
Gerard's provisional thesis, titled 'Resilience of Woody Communities to Disturbances Associated with Climate Change and Species Climatic Niche,' aims to introduce new tools for assessing the sensitivity and resilience of various forest communities when faced with combined challenges such as fire and drought. These assessments consider the climatic characteristics of the species and help identify the threshold at which forests may lose their ability to recover, enabling proactive measures to prevent ecosystem collapse. The predictive insights from this research are expected to hold significant relevance for various stakeholders already active in the region. They will aid in anticipating the impacts of climate change on forests and implementing suitable strategies for conserving these ecosystems and preventing their loss and degradation."
Gerard emphasized the significance of this scholarship: "Receiving this research grant at this early stage of my thesis is truly motivating. It demonstrates that our work is valued and of interest to others, greatly fueling my enthusiasm for this project."
Professor Rafael I. Barraquer highlighted, "Since our inception at Barraquer, we have been firmly committed to improving people's quality of life through knowledge generation, particularly in the field of ophthalmology. Through our collaboration with CREAF and the establishment of the Impulsa Barraquer Scholarship, we continue to strengthen our role in promoting research and nurturing young talent. We extend our best wishes to Gerard and his team for every success."
Finally, Joan Pino, director of CREAF, explained, "CREAF is a research center where we generate knowledge and act as a bridge, providing input for decision-making in the realm of environmental policies, particularly in the sustainable management of forest ecosystems. Mediterranean forests face growing pressure due to climate change, which may imperil their future survival. In alignment with Barraquer and their motto, we strive to adopt a forward-looking perspective. Gerard's research and his team serve as a clear example: we engage in the analysis and modeling of the future evolution of forests in the context of global change, promoting intelligent and adaptive forest management to ensure the survival of Mediterranean forests.