News
Bernarda Arrives Home!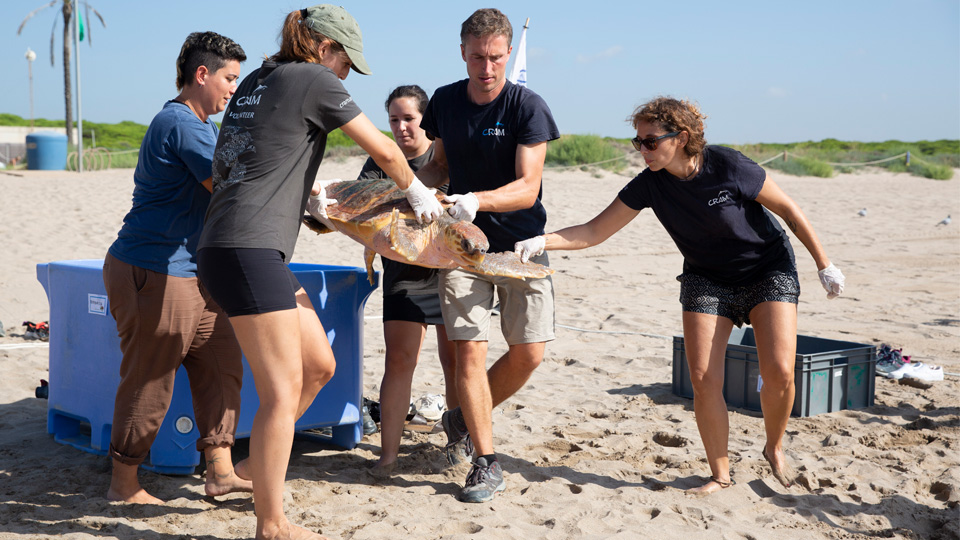 07/09/2022
Yesterday was a really special day for Bernarda, the turtle we sponsored to help the CRAM with her recovery, as she returned home, to the Mediterranean Sea. A team from the Barraquer Centre went to the CRAM facilities at Prat de Llobregat beach to help its medical team and volunteers as they released this specimen of sea turtle back into her natural habitat.
At the end of last year, we launched the exciting 'Tinguem Vista' project with the aim of doing our part to promote a healthy environment. Our first initiative was to partner with the CRAM by adopting Bernarda as part of her rescue, recovery and reintroduction into her natural surroundings. She is a specimen of sea turtle who was found on the beach in Pineda de Vila Seca in August 2021. One year later, thanks to the priceless work of the CRAM team, Bernarda is able to swim in the sea once again.
Bernarda's Recovery
When Bernarda was admitted to the CRAM's ICU, her overall health was poor: her skin was peeling, she had damage to her fins and ocular conjunctivitis, she was dehydrated and underweight. After receiving intensive care over the first few weeks, she was discharged from the ICU and moved to one of the recovery tanks where she had more space to swim and strengthen her muscles.
During her recovery, the Clinical and Rescue Department continued to treat her skin with a healing therapy that produced very good results. Month by month she gained weight until she was moved to the CRAM's large pools in July to strengthen her fins and thus start to prepare for her much anticipated release into her natural surroundings.
The 'Tinguem Vista' Project
Supporting Bernarda throughout the whole recovery process was a very rewarding experience. We have seen the valuable work carried out at the CRAM as well as the issues affecting the marine environment it inhabits.
We are very proud to have contributed to this initiative promoting environmental conservation and, in turn, a healthy lifestyle. This is just the start of the 'Tinguem Vista' campaign and we hope to support further organisations involved in preserving our biodiversity, caring for the environment and promoting sustainability.