News
Choosing a good snow goggle to maintain good eye health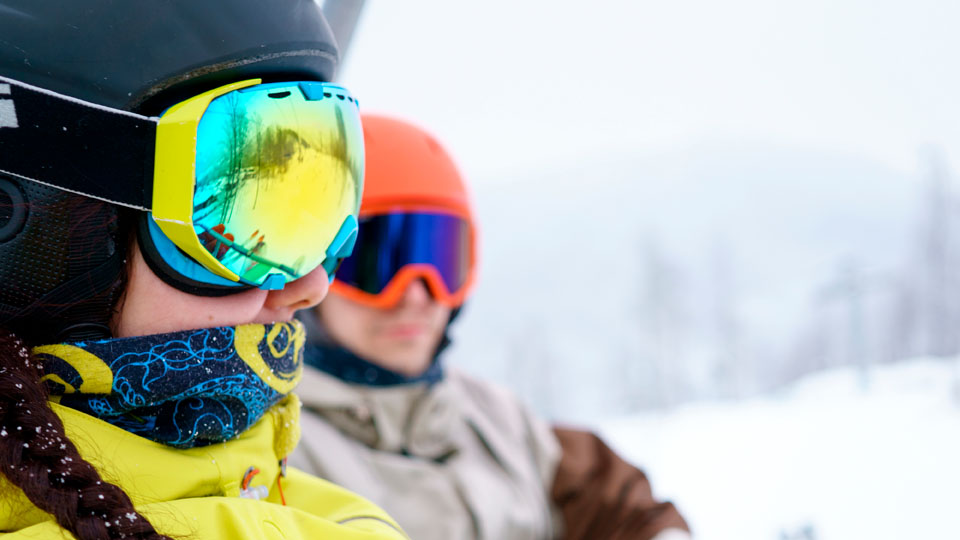 15/02/2023
In winter the sun, the cold and the wind have a great impact on your eyes. In the mountains, these factors have a special influence on your eye health, which is why the use of glasses or snow goggles is essential to avoid eye injuries.
The main characteristics to take into account when choosing good glasses or goggles are the colour and filter of the lens, its prescription and size. As for the filter, you must know that all snow goggles filter 100% of UVB and UVA rays. The most frequent colours for use in the mountains are grey, yellow and pink. The grey colour achieves greater protection against light and a precise perception of colours. The yellow colour captures contrast very well and helps reduce visual fatigue. For its part, the pink colour is used in snow sports because it improves the visual field.
Moreover, there are also goggles with polarized lenses, which are optimal for conditions of direct light and reflected light, as in skiing and sailing. In these situations, the light exposure is accentuated by the light that reaches the skier reflected from the snow and this type of goggles eliminates it from the start thanks to the polarization of said lenses.
If you wear glasses on a daily basis, there are two options to adapt them to your goggle. You can buy a goggle with an OTG (Over The Glasses) design, which can be worn on top of your prescription glasses, or you can use a prescription adapter. In this case, it is a plastic supplement that supports the prescription lenses and that fits inside the goggle. Your trusted optician can help you make this adaptation.
Finally, the size of the goggle plays a fundamental role in its correct placement on the face. Choosing one that suits your face will help you feel more comfortable and will prevent condensation on the inside of the lens. A correct size, together with a good ventilation design, will allow you to achieve adequate air flow and prevent the camera from fogging up, as well as achieving a good temperature and controlling the appearance of sweat.
Raúl Angulo, optometrist at the Barraquer Ophthalmology Centre