News
Elisa, a Foundation patient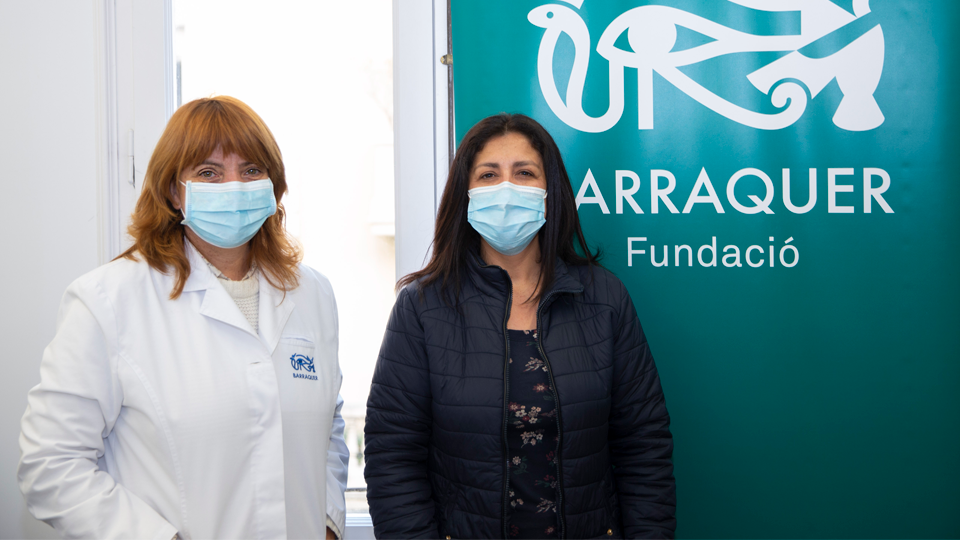 11/07/2022
After 24 years suffering from a loss of vision and after seeing more than 10 specialist doctors in Peru, her country of origin, Elisa has tremendously improved her vision thanks to the help of the Barraquer Foundation.
Elisa's eyesight problems first began at the age of 17. Glasses initially resolved the issue, but as time passed her difficulties grew. That was the start of a long trajectory that led her from her hometown of Cajamarca to Barcelona.
When she was 33, she was diagnosed with keratoconus and the doctor seeing to her at that time said to her, "you should have been operated on at the age of 22. It's too late now." She decided to seek a second opinion to confirm the diagnosis and she was overwhelmed when they told her that she didn't have keratoconus but a detached retina. At the age of 37, a family member told her that he'd had laser treatment at a medical centre in Lima and that she should try there. The new medical centre advised her to use contact lenses instead of glasses. It worked for a few years. But a while after, her eyesight started to worsen. Desperation took over. She had to quit her job.
Elisa has a big family. Her and her husband Martín have 3 children, plus she has the support of her parent and 4 siblings. Her sister Tania, in particular, was with her the whole time she was being treated at the Barraquer Centre, letting her stay at her home and helping her whenever she needed. Because of the pandemic, Elisa had to stop seeking medical help for a few months in March 2020. In January 2021, she saw a new doctor who was going to operate on her. At last, it seemed there was a treatment, but the doctor backed out, saying, "I am very sorry but operating is too risky". Despite everything, she continued to insist on finding treatment.
The situation led her to suffer from depression. One day, a friend of her mother, Eva, who lives in Barcelona, sent her information about the Barraquer Ophthalmology Centre, whom she contacted with the hope of finding a solution to her eyesight problems. She got here at the end of November. Elisa tells us, "Kindness starts at the Centre's door. We were given a warm welcome by the secretaries and the receptionists. I have fond memories of the people who accompanied me any time I arrived alone. Tests were carried out using high quality technology by professional experts.
The first consultation with Dr. Lamarca was very different. He had a pleasant way of explaining everything to her, plus the doctor said to her, "Of course there is a treatment." Elisa finally started to see the light at the end of the tunnel. "At Barraquer, we don't let you leave with uncertainty, you have the peace of mind of knowing what is going on. Plus, you know you're in safe hands, the doctor treats you like one of his own and you're not alone." The doctor told me, "it is our challenge to improve your vision." Elisa managed to get 90% of her vision back and tells us that the invaluable help of the Barraquer Foundation and its support and the quality service provided by the Centre's professionals, have brought her back to life!