News
The Barraquer Foundation carries out a medical expedition to Ecuador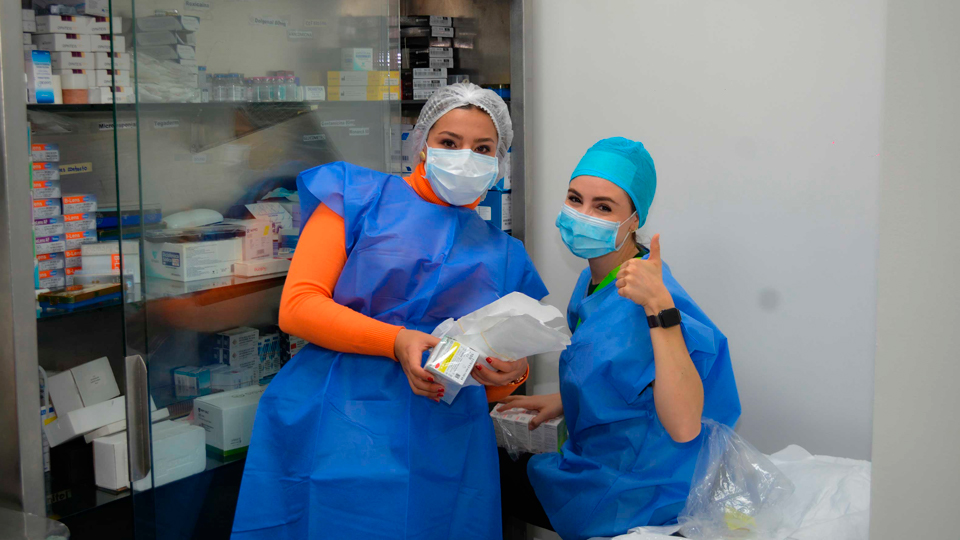 11/05/2023
Ecuador has been the last international destination of the Barraquer Foundation. On April 29, a team led by Dr. Jose Lamarca, an ophthalmologist at the Barraquer Ophthalmology Centre, travelled to the Latin American country for a stay in which they combined performing surgeries and training talks with local specialists.
The Clinics of Dr. Nivelo and Santa Ana, located in Cuenca, were the hosts of this expedition and welcomed the team made up of Dr. José Lamarca, Dr. Halima Berrada, Dr. Carla Cabellero and the scrub nurse Inma Cosío, all of them members of the Barraquer Ophthalmology Centre. Its objective was to perform cataract, keratoconus and refractive surgeries for patients with low economic resources in the region.
At the beginning of the week, a Wet Lab was also organized in which Dr. Lamarca gave a training talk and instructional surgeries were performed with a total of 23 local ophthalmologists who participated in said activity.
From Tuesday to Friday, cataract surgeries were performed on 144 patients, refractive surgeries on 7 patients, and surgeries to treat keratoconus on 13 more patients. Four young local ophthalmologists participated in the surgeries and received training from Dr. Lamarca. In addition, two of these ophthalmologists will have the opportunity to carry out a training stay at the Barraquer Ophthalmology Centre thanks to a scholarship granted by the Barraquer Foundation.
This expedition was possible thanks to the collaboration of: AJL, Alcon, Dorc España, Global Surgical Service and Medical Mix, who offered a good part of the necessary material to carry out the treatments during the expedition and to whom we thank for their participation.
The work of the team from the Ministry of Health of the Government of Ecuador, which was in charge of organizing and making appointments for the patients who received treatment, was also vital. And none of this would have been possible without the estimable initiative of Dr. Nivelo and Santa Ana Clinics, which promoted this expedition that has made it possible to offer ophthalmological assistance to patients who lack the necessary financial means.