News
Glasses donation for the "Light to your eyes" project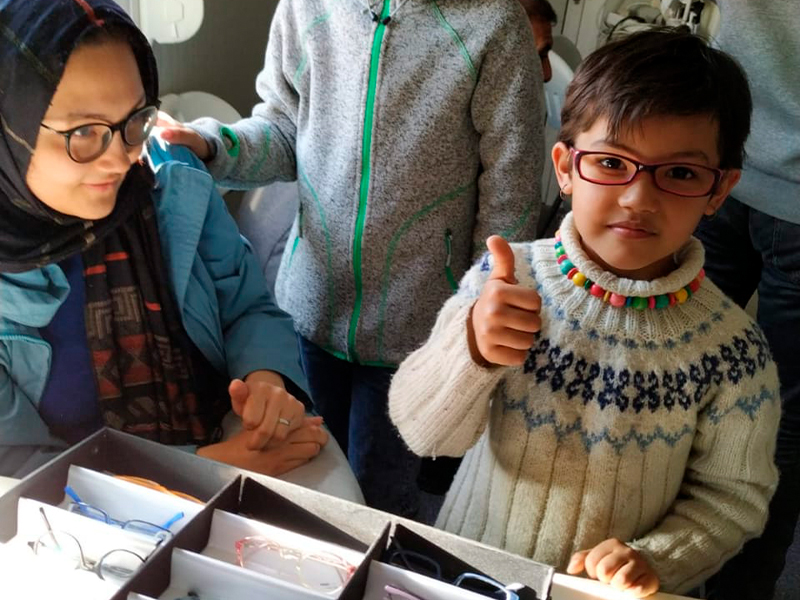 24/04/2019
The Barraquer Foundation has donated over 50 pairs of prescription glasses to Light Without Borders, a non-profit organisation that set up the project "Light to your eyes", which aims to provide eyecare for refugees on the Greek island of Lesbos. Luz Carmona, the creator and driving force behind the project, took time during her short stay in Barcelona to visit the Barraquer Foundation and give a passionate account of her exciting project that began in September 2016 when she set out to Lesbos in an old car with more than 800 pairs of prescription sunglasses donated by individuals, opticians and organisations. Over recent years, the project has been growing and becoming stronger, on one hand, thanks to collaboration from organisations such as the UNHCR and Doctors Without Borders—that have provided the necessary logistic resources and materials for the development of activities— and, on the other, the many volunteer ophthalmologists and optometrists who travelled there to care for the refugees with eye problems.
The headquarters of "Light to your eyes" is in the Moria refugee camp, where there is an IsoBox equipped with all the material required to do the check-ups. The work of opticians involves testing the eyes of each patient in order to provide them with lenses that meet their requirements. This means that sooner or later all the donated glasses a find a recipient among the thousands of refugees arriving on the island of Lesbos every day, largely from Syria, Iraq, Afghanistan, Iran and Sub-Saharan Africa.
By doing this, the Barraquer Foundation does its bit to help this vulnerable group, unfortunately overlooked by a large part of society.