News
In conversation with Dr. Francisco Ruiz Tolosa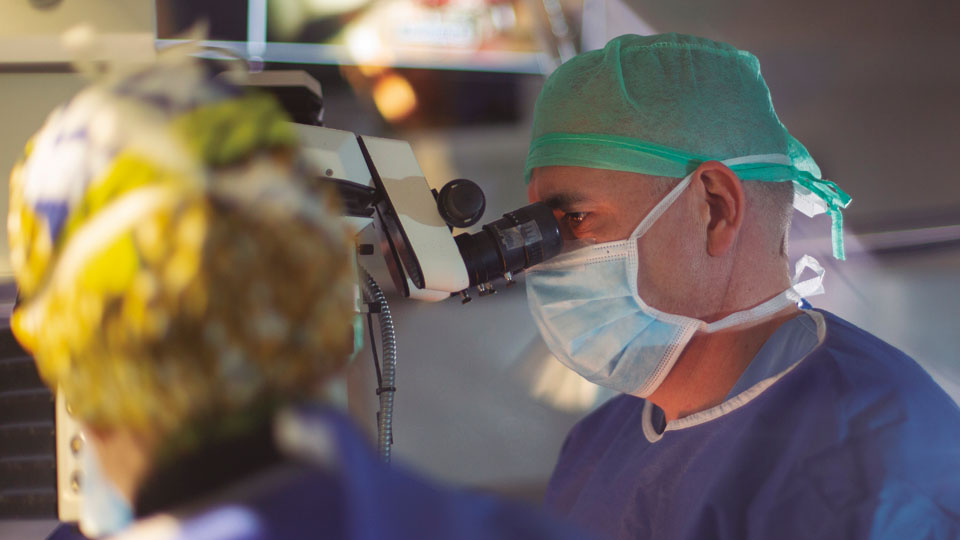 28/04/2023
Dr. Francisco Ruiz Tolosa graduated in Medicine from the University of Barcelona and specialized in Ophthalmology at the Barraquer Ophthalmology Centre. He is a subspecialist in anterior segment surgery and glaucoma, a department that he currently coordinates.
He is a member of the teaching team of the Institut Universitari Barraquer, and acts as coordinator of the glaucoma sessions given at the Centre. He has participated in numerous studies of antiglaucoma drugs, evaluating their efficacy and safety, as well as studies of different surgical techniques for the treatment of glaucoma.
What led you to study Medicine and specialize in Ophthalmology?
I have always wanted to be an ophthalmologist like my father. When I studied Medicine, I had no other option than to be an ophthalmologist. What I lived at home and dedicate myself to treating something as important as vision, attracted me a lot.
How were your beginnings, what do you remember from your residency years?
It was an exciting time, full of challenges, new hopes and a lot of work. I remember the nerves of presenting lectures at congresses, and at the operating room. We got along very well among the residents and had a great time. I have very good friends from that time.
It was very easy for me to adapt, since I knew many of the Centre's collaborators, thanks to that and the excellent staff at the clinic, I felt at home.
How is your day? What do you like most about your profession?
Usually, I see patients every day and go to the operating room two or three days a week, two other days I also perform laser-assisted treatments. There is also a teaching part, both in clinical sessions, as well as in the consultation and operating room with the residents. The new surgical techniques, and the ability to deal with complicated cases in the operating room, is the part that I like the most.
You are a resident physician tutor. How do you see the future of ophthalmology?
I see the future, increasingly going towards telemedicine, giving more role to artificial intelligence, and new technologies, leaving the diagnostic criteria and the human part of contact with the patient, for the ophthalmologist.
What does it mean to be coordinator of the Glaucoma Department?
You must deal with unforeseen events that occur in the department, such as absences due to sick leave, congresses... As well as decision-making such as the acquisition of new exploration instruments and surgical material. There is also a teaching part, such as coordinating clinical sessions, courses...
Can we talk about a profile of glaucoma patients?
I would not say that there is a single patient profile; rather I would say there are two profiles, the patient who is not fully aware of the disease and its possible consequences, and the one who is aware and has a high level of involvement. This depends in part on the severity of the glaucoma they have, or if they have had a close relative with advanced glaucoma.
With such an absorbing job, what do you do to disconnect?
Unfortunately, I do nothing. It is one of my pending subjects. Before whenever I could I escaped to the sea to practice apnoea, it was practically a way of life.