News
Interview with Dr. Marta López Fortuny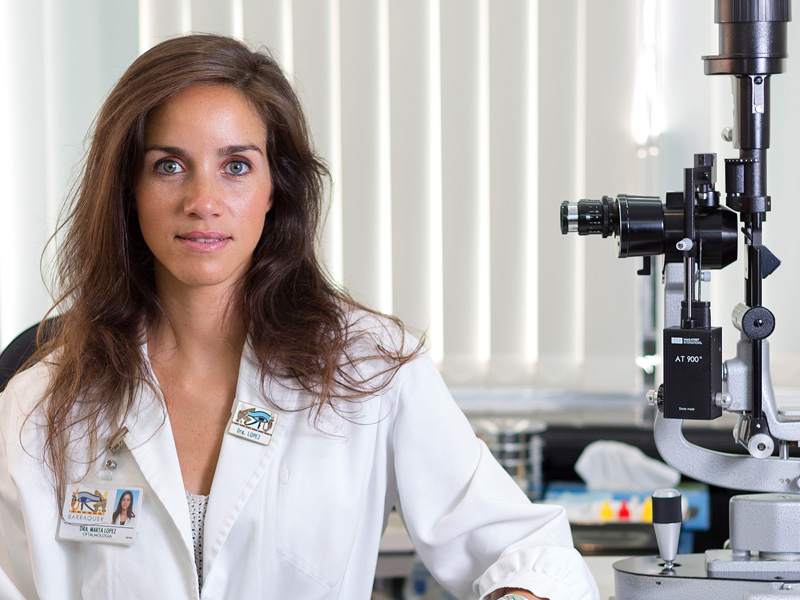 15/07/2016
When did you first become interested in Ophthalmology?
It was during my degree; I was fascinated when I saw such precise surgical operations during my ophthalmology work experience. Professor Joaquín Barraquer came to our faculty to give us a presentation on Alpha-Chymotrypsin, and he gave me the opportunity to attend his surgery sessions and patient visits. Then in the third year of my medicine degree I was able go to the Barraquer Ophthalmology Centre as an observer.
What memories do you have from when you started as resident doctor in the Barraquer Centre?
I remember the first times I went into theatre to help those who are now my colleagues, their advice and detailed instructions for each of the steps to follow during surgical procedures. I also remember how thrilling it was to remove the patches from the eyes of the patient the day after the operation.
After your resident doctor training, you decided to go for eyelid, orbit and tear duct periocular care and surgery. What made you sub-specialise in this area?
I liked all the training rotations I did in the clinic so I was convinced I wanted to specialise in the cornea, glaucoma and retina. However, in the end oculoplasty seemed more artistic and unpredictable, and it's these qualities that made me go for eyelid, tear duct and orbit surgery.
Are there any new developments in this field?
Surgery is becoming increasingly less invasive and the post-operative and recovery phases are quicker too. Reconstructive surgery improves quality of life, because we try to retain the patient´s own features. Blepharoplasty can now improve the eye expression and it can correct cases of eyelid drooping or flaccidity in the same operation.
How does the Orbit and Oculoplasty Department coordinate with other ophthalmologists in the Centre?
There are many ophthalmologists in the clinic with patients who have eyelid, tear duct and orbit pathologies. Because the periocular structures protect the eye and if the need for eye surgery arises, the ocular annexes must be in a good condition.
Between visits, surgery and conferences, how do you relax each day?
I do sport as much as I can and, above all, I enjoy being with my loved ones. When I was little my grandfather introduced me to drawing and painting, and they've been my passions ever since. Surgery gives me a way of practicing them in my daily work.
What do you think is the Barraquer Ophthalmology Centre's secret to success?
The Centre has been doing things the right way for years, and that's why its reputation is well established. Plus, our ophthalmologists provide personal care and attention; they are passionate about their work and are always at the forefront of surgical techniques