News
Interview with Dr. Marta Mármol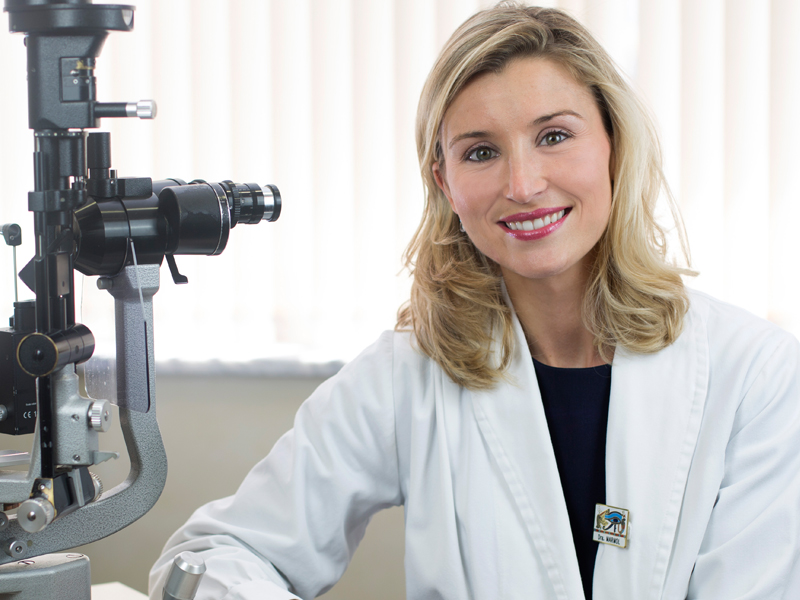 15/09/2017
Born in Cerdanyola del Vallès, Dr. Marta Mármol Díaz started off as a resident in the Barraquer Ophthalmology Centre in the year 2010.
On finishing her residence in 2014, she worked in the Centre's emergency department for some time. She has been a Fellow in Oculoplasty for two and a half years approximately. Dr. Mármol has recently become part of the Glaucoma Department at the Barraquer Ophthalmology Centre, an achievement which is a great leap forward for her and a professional challenge which she takes on with utmost enthusiasm.
—Why did you decide to become a doctor? Did your parents or other family membres influence your decision?
Ever since I was a child I'd been intrigued by medicine. None of my relatives influenced me as I'm the first doctor in the house, although my parents always encouraged me to really go for my goal.
The fact that your profession allows you to help people with something so essential as their health is rewarding.
—What training did you undertake to become an ophthalmologist? Do you have any advice for medicine students and new residents working in this specialisation?
I studied medicine at the Autonomous University of Barcelona. I spent the first two years at the Bellaterra Faculty and the following 4 years in the Vall d'Hebron Hospital. After the MIR (Medical Residency Training), life offered me a fantastic opportunity: an ophthalmology specialisation at a centre of reference: Barraquer. My advice to students embarking on this exciting adventure is to make the most of the training they receive, and enjoy this wonderful stage of life at the same time.
—Why did you decide to specialise in ophthalmology?
Since the start of my degree I'd felt drawn to ophthalmology, and during my placement in the Hospital, my convictions were reaffirmed. Ophthalmology is a very comprehensive discipline. It's a medical and surgical specialisation which, despite its sole focus on the "eyes"—a priori a tiny organ—, introduces you to a world of sub-specialisms, full of cutting edge therapeutic techniques.
—What do you like most about this profession?
What I like most about being an ophthalmologist is that we are the doctors responsible for looking after our patients' eyesight. I think it's our most valued sense, and safeguarding it is rewarding.
Furthermore, as I mentioned before, it's a very comprehensive specialisation. It allows you to work as a clinician and a surgeon and be at the forefront of the most innovative advances.
—You've just become part of the Glaucoma Department of the Barraquer Ophthalmology Centre. Can you tell us about the main cause of this condition?
Glaucoma is an irreversible disease that affects the optic nerve. The most significant risk factor is high intraocular pressure. Genetic predisposition and vascular factors are additional important factors. Moreover, there are other possible causes or conditions that may bring it about. For example, people who have undergone prolonged periods of treatment with steroids; after eye trauma, or associated with other eye conditions.
—Is this condition usually detected? What indications or advice can be given for early detection, thus avoiding blindness?
The main problem with glaucoma is that it is a silent disease. The majority of affected patients do not usually have symptoms until advanced stages of the illness, and as the damage is irreversible, early detection is vitally important.
That's why regular eye check-ups are fundamental —and even more so if you have any predisposing factors: over 40 years old, family history of glaucoma, myopia, diabetes, high blood pressure or cardiovascular diseases, etc.
—What are the main advances you would emphasise in treatment of this condition?
We currently have a wide range of therapeutic options. In the near future, we might have new eyedrops and even slow release drugs. From a surgical point of view, the innovative aspect lies in the new implants via minimally invasive glaucoma surgeries (MIGS) that encourage drainage by minimising tissue manipulation and prioritising safety and efficaciousness.
—Have you ever volunteered in a Medical expedition with the Barraquer Foundation?What part of the expedition had the greatest impact on you?
Yes, I've been lucky enough to participate in expeditions to Libreville (Gabon) and Boane (Mozambique) with other colleagues from the Barraquer Foundation. It's not easy to explain how gratifying these experiences were. Each day, when we removed the bandages from the patients operated on the previous day, I was surprised by the sincere gratitude in their eyes. You retorn to Barcelona with so much less equipment, but a heart bursting with happiness and satisfaction at having reached the goal of our mission and restored the sight to many eyes. An undoubtedly unforgettable experience.
Stefano Bosio Foto: Álex Barrios