News
Milena, Oksana, Liubov, and Tatiana, patients of the Barraquer Foundation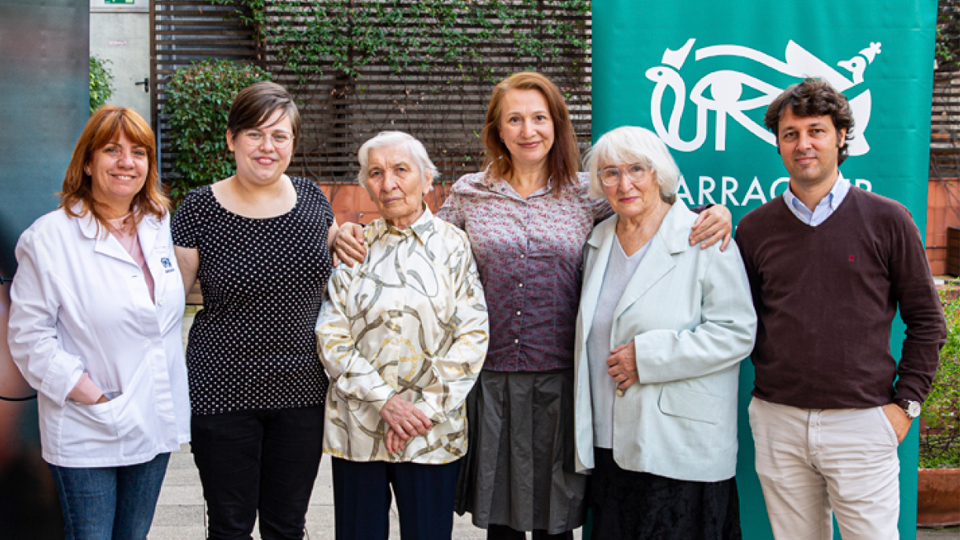 20/06/2023
Milena, the youngest of the family, was the first to come to the Barraquer Foundation. She left her native Ukraine with her parents and siblings for medical reasons before the war broke out. She currently resides in Rubí and studies at the University of Barcelona, where she started experiencing difficulties following the classes because she couldn't see the blackboard clearly. It was at that moment when she first contacted the Barraquer Foundation since she was familiar with our assistance program "Mirem per tu" and the possibility of obtaining affordable glasses through the agreement our organization has with General Optica.
When she put on her new glasses at the optician's, she tells us that she was pleasantly surprised by being able to see all the details of what was happening around her so clearly. Since then, her quality of life has improved significantly. She can now follow classes normally and fully enjoy reading, one of her great passions.
Months after Milena arrived in our country, the war in Ukraine started. Liubov, her maternal grandmother, was able to come to Barcelona to reunite with her family. Liubov's eyesight had deteriorated significantly over time, and with the COVID-19 pandemic, the fear of possible infection prevented her from leaving the house to go to a hospital. Shortly after arriving in Barcelona, encouraged by Milena, she was seen at the Barraquer Ophthalmology Centre to have cataract surgery through the "Cataratas + Visión" program of the Barraquer Foundation. Now, Liubov has regained her vision and, with it, the independence she needed to start a new life.
On the other hand, Oksana, Milena's mother, alarmed by severe eye pain and intense migraines, also decided to visit the clinic, where she was prescribed prescription glasses that she obtained from General Optica. Her vision has improved significantly, and the constant headaches that prevented her from living peacefully have ceased.
The other grandmother of Milena, Tatiana, was the last to arrive in Barcelona. Like her granddaughter, she is an avid reader and was able to get her glasses with the help of the Barraquer Foundation and General Optica.
All the women in this family—Milena, Oksana, Liubov, and Tatiana—have been able to improve their vision and are very happy with the doctors who have treated them: Dr. Natalia Ledo, Dr. Gloria Segura, Dr. Mª José Capella, Dr. Jose Lamarca, Dr. Ramón Rey, and Dr. Lola Rodríguez, as well as the optometrists and receptionists at Barraquer and the teams from the Barraquer Foundation and General Optica. They explain that despite being far from their country, they have received close and friendly treatment. They have felt accompanied during all their visits, and for all these reasons, they express immense gratitude.