News
Oscar Daniel, a Barraquer Foundation patient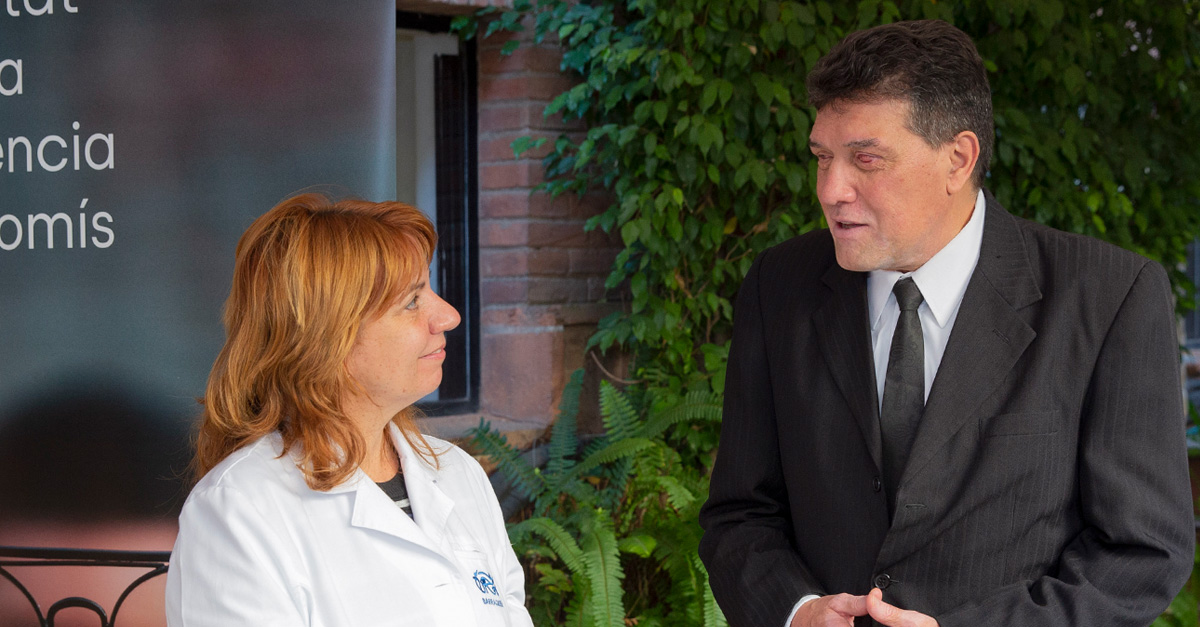 06/04/2022
Mr. Oscar Daniel Zalalar first came to the Barraquer Ophthalmology Centre in 2019. Not much time has gone by since his first visit, but what happened in that period changed his forever.
Mr Zalalar was already familiar with Barcelona, having been here in 1999 when he was a physical education teacher and came on a cultural exchange organised by the school he was working in. He made repeated trips to the city of Barcelona, he would come and go from Argentina, he would give lectures and meet with students and other teachers. These years were the start of his friendship with Pedro Felipe Sánchez Aran of the Centre d'Estudis Jaume Balmes school in Hospitalet de Llobregat (Barcelona), a fundamental person in his life who has helped and supported him all these years.
In the year 2007, because of Stevens-Johnson syndrome he loses his corneas and receives treatment in Buenos Aires. He spends 42 days in ICU and suffers from terrible pains and severe burns.
In 2016, he moves to Barcelona and gets to know Dr Moser, who gives him excellent references for Dr Álvarez de Toledo and Dr María de la Paz, both doctors at the Barraquer Ophthalmology Centre. He continues his treatment but the illness advances and in the year 2017, the prostheses that he had "fitted" no longer work. He loses his eyesight. In 2019, he visits Dr Juan P. Álvarez de Toledo, Dr María de la Paz, Dr Saman and Dr Nadal for the first time. That same year he begins the process of having osteo-odonto-keratoprosthesis surgery on one eye and a Boston keratoprosthesis on the other. An osteo-odonto-keratoprosthesis is a highly complex surgical procedure performed by a limited group of surgeons in the world and it involves a range of separate operations over time until it is fully complete.
The process to completion is complicated and time-consuming, plus in this case it coincided with the pandemic, which meant an extra effort. The patient explains how the surgical procedures always depended on a negative PCR test, an element that increased pre-operative stress levels. In addition, Mr Zalalar was asked to go into isolation for the week leading up to each operation, without any contact with the outside world in order to keep his health at optimum levels and ensure that he did not contract Covid-19.
Approximately one year after the process began, Mr Salazar could see once again, the surgery having been successful. He fondly remembers the moment when Dr. De La Paz removed the eye bandage. The first thing he saw was a pair of hands and he cried "I can see you!" and then broke down into tears caused by his jitters and the happiness he felt at being able to see again. Until that day, his blindness had stood in the way of him seeing inside the clinic; for the first time he saw the drawings on the tiles, the Centre, the buildings and the city. It impacted him tremendously; everything took on a new meaning. But even more exciting was seeing his grandson's face. "I went from the darkness into the light. I was blind. My family, the professionals at the Barraquer Ophthalmology Centre, starting with Juan who welcomed me at the door, all the doctors, particularly Dr María de la Paz, a globally eminent figure, and all her team, the receptionists, the medical secretaries and the Foundation team and the fond memories, accompanied me every step of the way until I got here. Now I can see everything and see the word THANK YOU (in capital letters)."