News
Retinitis Meeting San Sebastian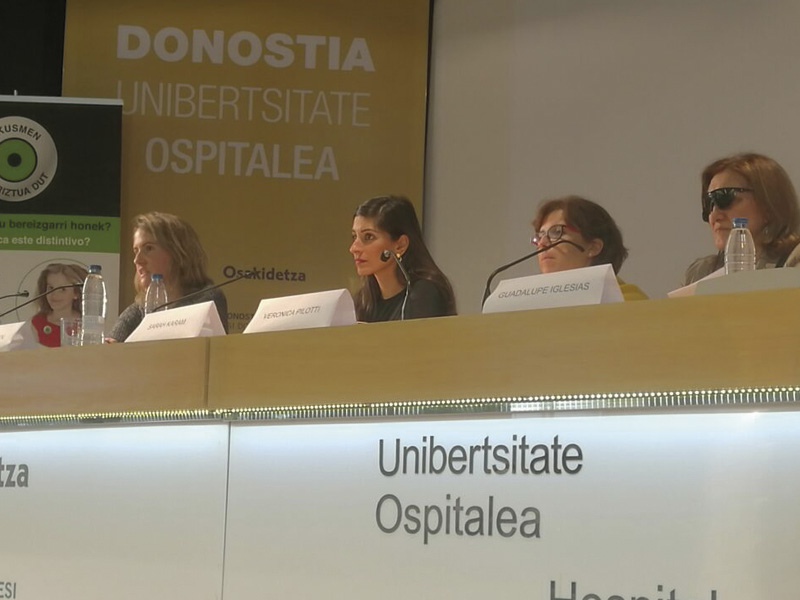 22/11/2016
On November 19, at the Hospital of Donostia, the association of people affected by retinitis pigmentosa "BEGISARE", invited the team of Dr. Nadal to meet with those affected by this disease, as well as with ophthalmologists, to explain what the Argus II is, a new neuron electro stimulation technology whose implantation has already been carried out at the Barraquer Ophthalmology Centre in three patients. In the month of December will be implanted in the fourth patient.
Dr. Sarah Karam of the Barraquer Ophthalmology Center explained how vision works in a person with a healthy eye. She spoke of the three new therapies under development that could be encouraging for this group of patients, who have lost or are losing their vision. She explained how the Argus works (glasses, image processor, external and internal antenna, transducer ...), and who were candidates to be carriers of the Argus. She also stressed that what is achieved with the Argus is an artificial vision and not a vision as the patient remembers. She showed several videos of surgery and rehabilitation, and the results of our three patients.
Then spoke Veronica Pilotti, biomedical engineer of IMEX, who explained the complexity of the rehabilitation and the intellectual effort that it supposes to the patients.
Finally spoke Guadalupe Iglesias, operated on by Dr. Nadal last December 2015 at the Barraquer Ophthalmology Centre, who shared his experience as a carrier of Argus II. She had a great sense of humour in how she convinced Dr. Nadal that she was the perfect candidate, how she faced the surgery, how to re-distinguish shapes and the hard work of rehabilitation. Impressive her optimistic outlook on life.
Finally there was a round table to answer questions from the audience.