News
Seven tips to help choose glasses for children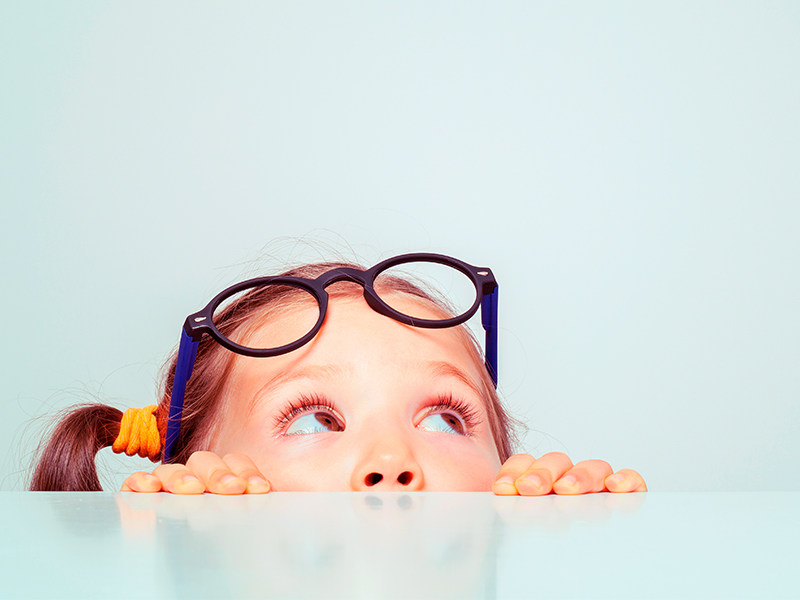 10/04/2019
Due to their young age and facial features, choosing glasses for children is not a simple task and raises doubts among many parents who often consult our ophthalmologists.
It's important to consider a series of recommendations when it comes to choosing the right frames, thereby ensuring their usability and the eye health of your little ones, as a result.
We should choose frames that suit the shape of the child's face. The bridge should be flat (no pads), low and even inverted for babies. Children do not have a nasal septum, so if the bridge is on the upper part of the glasses it will "slip" meaning that the child will look over the top of them.
The legs need to be flexible, adjustable and long enough to avoid rubbing behind the ear. In addition, it's recommendable to use stoppers on the end of the legs or even an elastic band behind the head to stop the glasses from moving.
In general, plastic frames are recommended, as the material is lightweight and resistant. When it comes to babies, we prefer to use silicone frames, given that they can tolerate twisting and turning, and suit the facial features of the littlest babies. It's advisable to avoid metal frames, as they are the most unstable. If the child has an allergy to nickel, you can go for titanium, which is resistant and hypoallergenic.
Glasses should be oval-shaped or round, as if they are rectangular, the child will look over the top of them and they won't do their job. It's a mistake to think that you have to buy big glasses for when the child grows. The eye should stay at the centre of the lens, otherwise the frames will bother the child.
Always choose organic lenses, as they are most resistant to breakage and therefore safer.
Very often the child sees glasses as their enemy and refuses to use them. So, it is very important to encourage the child to use them by involving them in the choice of model and colour. Successful glasses wearing will lie in the child being comfortable in them and feeling good when using them.
Having replacement glasses on hand is fundamental, as frequently the child breaks them or they get damaged. We must remember that eyesight development starts from birth and ends around the age of 8 or 9, so if the child needs glasses and doesn't wear them, this can determine their condition for the rest of their life.