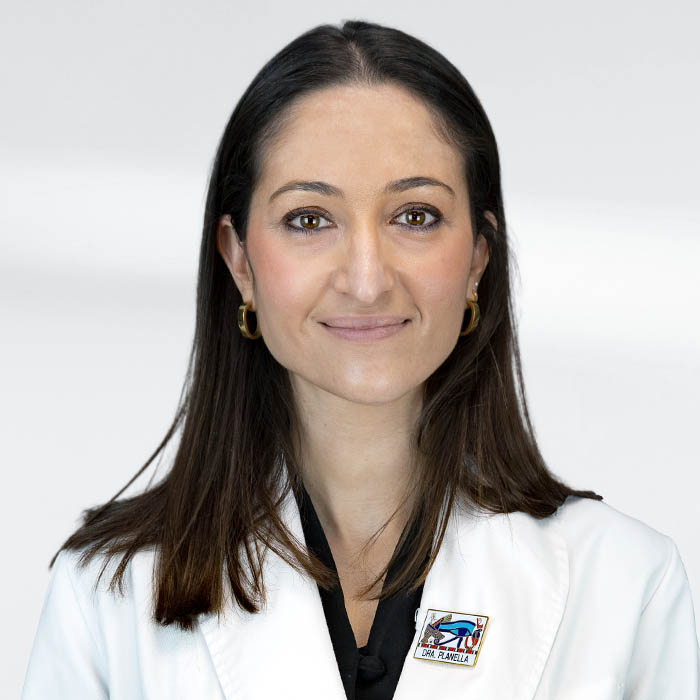 Medical registration no

48.227
Dr. Sandra Planella is a graduate of Medicine from the Autonomous University of Barcelona (2011). She continued her professional training with four masters in different ophthalmological subspecialties at the Barraquer Institute: Diagnosis and Treatment of Cataract and Glaucoma; Pathology and Surgery of the Macula, Vitreous and Retina; Pathology of the Cornea and the Ocular Surface; and Retina-Vascular Pathology, Inflammations and Intraocular Tumors. She completed her training with a surgical master's degree in Pathology of the Orbit, Eyelids and Lacrimal ducts at the Association to avoid blindness in Mexico and with a master's degree in Aesthetic Medicine at the ESNECA Business School.
Professional activity
She is and ophthalmologist of the Orbit and Oculoplasty and Ocular Oncology areas of the Barraquer Ophthalmology Center.
Important Publications
Tumors of the peripheral nerves. Schwannoma and malignant tumors. J.V. Pérez Moreiras, Mª C. Prada, M. Tazartes, S. Planella Coll, J. Antúnez López, "Orbit. Examination, Diagnosis, Microsurgery and Pathology". Chapter 30. Vol II. 2018
Glioma of the optic nerve. J.V. Pérez Moreiras, G. Castela, S. Planella Coll, J. Antúnez López "Orbit. Examination, Diagnosis, Microsurgery and Pathology". Chapter 31. Vol II. 2018
Lymphoproliferative and leukemic disorders of the orbit and adnexa. J.V. Pérez Moreiras, S. Planella Coll, M. Varela Agra, J. Antúnez López. "Orbit. Examination, Diagnosis, Microsurgery and Pathology". Chapter 35. Vol II. 2018
Secondary meningiomas of the orbit. J.V. Pérez Moreiras, A. Velasco Cruz, P. Mitiko Santello, S. Planella Coll, S. Plazola Hernández. "Orbit. Examination, Diagnosis, Microsurgery and Pathology". Chapter 37. Vol II. 2018
Microsurgical approaches for tumors of the orbit. J.V. Pérez Moreiras, G. Salcedo Casillas, S. Planella Coll, J. Blanco Rey, S. Garrido Villarino. "Orbit. Examination, Diagnosis, Microsurgery and Pathology". Chapter 42. Vol II. 2018