News
Check-up day at the BarcelonActua Foundation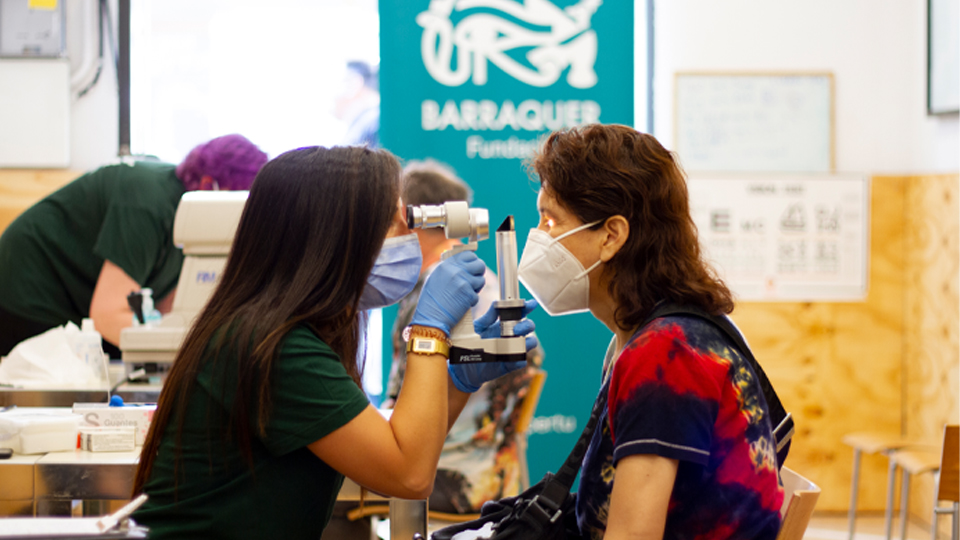 30/05/2022
This May, the check-up day took place in one of the centres of the Barcelonactua Foundation, one of the beneficiary organisation of Mirem per tu, the program through which the Barraquer Foundation provides ophthalmological and optometric help for the most vulnerable collectives.
The BarcelonActua Foundation is a non-profit organization that was born in 2011 in response to the great economic crisis that shook our country, with the desire both to mobilize society and to create strong links between people in a vulnerable situation and others who can offer their support.
Last Wednesday, on May 26, a team from the Barraquer Foundation travelled to La Llar del Raval, one of the organization's centres, to carry out comprehensive eye- check-ups on its users. We saw a total of 29 adults. Eighteen of them were referred to General Optica over the coming days to undergo a more exhaustive optometric examination, in order to determine their exact prescription and get glasses that will help them to solve their vision problems; another 4 people with possible eye diseases will be visited shortly at the Barraquer Ophthalmology Center with the appropriate specialist in each case to determine the most appropriate treatment.
We really appreciate the selfless collaboration of Dr. Marina Garcia and Dr. Alejandro Alcaide, both residents at the Barraquer Ophthalmology Centre, and Georgia Garcia, optometrist at the of General Óptica store on Ramabla Catalunya, in Barcelona. We'd also like to highlight the fabulous work and excellent organization of our colleagues at BarcelonActua, who gave us so much help along the way..
Our next stop will be on June 22 at the Ared Foundation. We'll keep you up to date.