News
The Barraquer Foundation expedition to the Gambia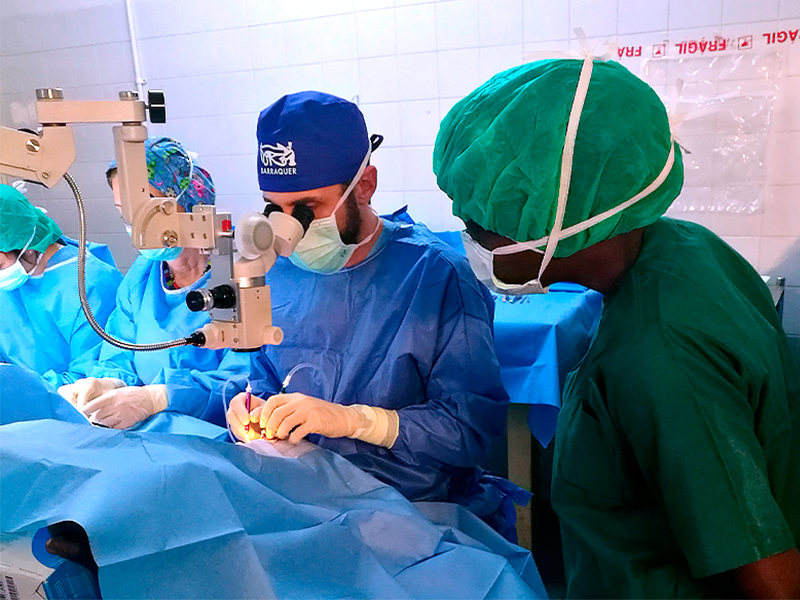 09/04/2019
A team from the Barraquer Foundation spent a week in the hospital in Brikama - one of the largest cities in the Gambia, located south of Banjul - providing ophthalmological assistance to patients without resources, who every day in the early morning have filled the waiting room to be taken care of. Thanks to the dissemination of the event made in the days prior to the expedition by the health center itself and the local media, the population echoed our arrival and many people came with the hope of solving their vision problems.
Dr. Marta Jerez, who had in her office the collaboration of the volunteer Raúl Vall, was in charge of making the initial visit to the patients to diagnose the possible pathologies and detect the cases of cataracts, which were referred to the anesthesia room. There Dr. Ignacio Zabal and the volunteer José Lamarca Ciuró prepared them for surgery. Then they went to an operating room specially equipped for the occasion where they underwent surgery performed by Dr. Salvador and Dr. Lamarca, assisted by nurse Patricia Ruiz, Dr. Esther Lliró (who came as an instrumentalist), the assistant Maite Muñoz and Francesc Ballbé, the director of the Foundation.
Despite the fact that the means, resources and facilities were not the most adequate to work, the expedition was a success in all aspects and we were able to meet the objectives set. One of them, following the desire of the board to give a more educational approach to expeditions, was to dedicate an important part of each day to the training of local staff. In this sense, several nurses were observing, assisting and learning in a practical way with the entire medical team; with Dr. Jerez in the consultation, with Dr. Zabal in the anesthesia room, or with doctors Lamarca and Salvador in the operating room. Although this, of course, delayed the pace of visits and surgeries, we believe that it was a time investment as necessary as satisfactory, fully aligned with the new philosophy of the Foundation. In total, we performed 92 cataract surgeries and made 350 visits to patients.
Thanks once again to Dr. Esther Lliró and the NGO Cultivant Vida, the entity that helped us organize the expedition, to all the volunteers and professionals of the Barraquer Ophthalmology Center who were part of it with an enthusiasm and a desire to work commendable. We also have to thank our collaborators, General Optician, Paraffin, Medical Mix and Optical Change Vision, who donated the glasses for our patients and much of the necessary material to perform the surgeries.