News
Marel, a Barraquer Foundation patient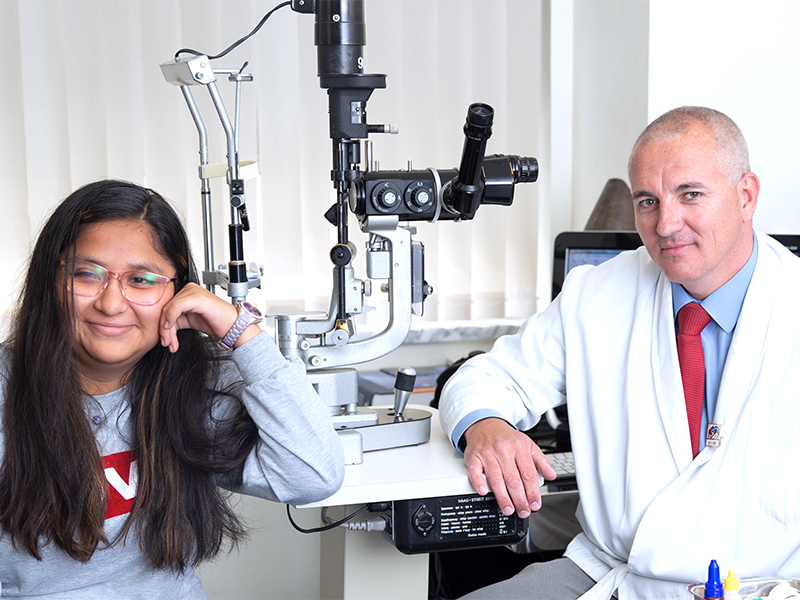 23/10/2019
Marel has been a patient at the Barraquer Ophthalmology Center for four years now and despite her youth she has already had to face some complicated situations that have made her stronger than other girls of her ages.
Marel's mum tells us about the journey they embarked upon to get to the Barraquer Clinic and find stability for their daughter's health. It all started with a routine paediatric check-up where the doctor referred her to a specialist. Initially, the doctors seeing to her at that time couldn't put their finger on the illness she was suffering from and as the months passed she continued seeing poorly and had significant bother with her eyes. She was prescribed glasses and contact lenses. Neither the glasses nor the contacts helped Marel to see properly. Marel's parents were worried. One day, when she was talking to the school principal, Marel's mother explained how her desperation at seeing how the treatment was not improving her daughter's situation, so the principal spoke to the Barraquer Clinic. She had heard about the Clinic through a neighbour of hers, a nurse at the Centre, and it had very positive reviews which seemd to present a new chance to improve Marel's health.
Her parents did not hesitate in bringing her to the Clinic, but the first time they brought her was to A&E. Marel had experienced a serious loss of vision that required an emergency operation. They embarked upon a significant journey until the present day as she continues overcoming the difficulties in her way.
Courage and a calling
However, Marel is a very brave and decisive young girl, sometimes she comes across as older than she is, due to what she's experienced. She remembers her first time in the operating theatre very clearly, she was really scared although she's never felt concerned sinc that. She states that she knows she's in good hands and that's why when she goes to the Clinic she has complete confidence in the medical team and the rest of the professionals she meets. The following doctors have seen to her: Dr. Álvarez de Toledo, Dr. Sauvageot and Dr. Ruiz Tolosa, and she feels so well looked after that she says that she wants to be an ophthalmologist when she grows up. She'd like to be able to help people like her who have difficulty seeing, so that they can "study, play and see all of life's wonderful things". Giggling bashfully, she tells us that, if she could, she'd "like to work at the Barraquer Centre to be close to those doctors and professionals that have helped her".
Marel is an example of strength and optimism. She has had difficult times, but she has always had her family by her side, fighting with her to keep her positive. We are really happy that she remembers many of the Clinic's professionals who supported her on her visits to the Centre: receptionists, nurses, medical secretaries, surgery staff, security guards, the Foundation team and, of course, the whole medical team who treated her.