News
Ocular Surface News at the VI Inside Barraquer Conference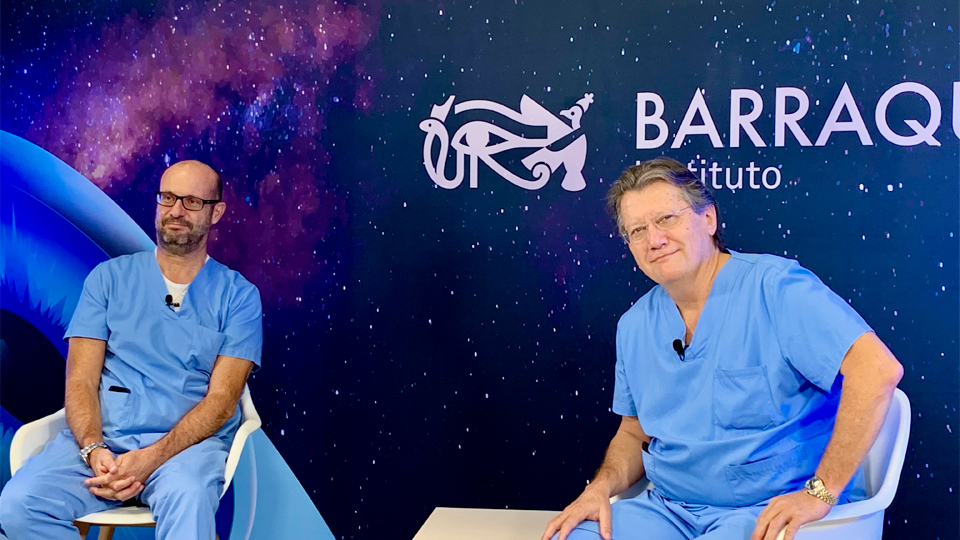 08/11/2021
The Barraquer Institute, a leading centre in the teaching and dissemination of eye health for more than 70 years, along with the Barraquer Ophthalmology Centre, held the InSide Ocular Surface Conference on Friday 5 November. This was the 6th edition of this medical meeting that, due to current circumstances, was held 100% online, broadcast via streaming and, in addition, provided free of charge to all attendees in order to extend the range of the Institute's training.
The ocular surface is one of the sub-specalisms that garners greatest interest in ophthalmology. It is a multi-structural unit involved in a large number of ocular pathologies and is affected by multiple medical and surgical procedures, both in the anterior and posterior segments of the eye and ocular adnexa. The symposium addressed the different technological advances over recent years that have helped develop specific diagnostic tests with objective results, providing the ophthalmologist with a deeper understanding of the anatomical and functional state of this complex structure. Furthermore, the new drug and physical therapies –such as intense pulsed light– and surgical therapies, which have also improved the treatment and prognosis of numerous conditions in this field, were also presented.
Speakers from all around the globe
Coordinated by Dr. Juan P. Álvarez de Toledo, deputy medical director and coordinator or the Anterior Segment and Refractive Surgery Department at the Barraquer Ophthalmology Centre, more than 400 delegates attended the meeting. After the presentation by Prof. Rafael I. Barraquer, the course started off with the two first blocks: Dry eye, moderated by Dr. Victor Charoenrook; and Intense Pulsed Light (IPL) in Ophthalmology, moderated by Dr. Sandra Planella.
This was followed by the renowned Dr. Carol Shields, director of the ocular oncology department at Wills Eye Hospital in Philadelphia (United States), who gave the lecture Conjunctival Tumours: From Surgery to Topicals to Biologics. Her presentation dealt with the latest advances in corneal transplant or replacement surgery with a prosthesis that yields very good results in complex cases which, in the near future could be systematically applied to the progress made in the field of ocular regenerative medicine. She also reiterated the importance of a correct diagnosis and gave a wide variety of real clinical cases as examples.
After a short break for lunch, there were three further sessions: Other lesions of the ocular surface and anterior segment, moderated by Prof. Rafael I. Barraquer; Regenerative therapies in ocular surface and corneal pathology, moderated by Dr. Clara Álvarez de Toledo; and finally, Keratoplasty and keratoprosthesis: current perspectives, moderated by Dr. Juan P. Álvarez de Toledo.
The conference was a great success and we would like to thank the other speakers, who joined us online from the United States, Germany, France, Italy and Spain, for their participation: Dr. Elizabeth Messmer, Prof. José Manuel Benítez del Castillo, Prof. Cristophe Baudouin, Dr. Marc Labetoulle, Dr. José María Herreras, Dr. Rolando Toyos, Dr. Mayte Ariño, Dr. María Gessa, Dr. Jose María Martínez de la Casa, Dr. Oscar Gris, Dr. Ciro García Álvarez, Dr. Francesc Treserra, Prof. Ricardo Casaroli, Prof. Paolo Rama, Dr. Jorge Alió del Barrio, Dr. Francisco Arnalich and Dr. José de la Cruz.